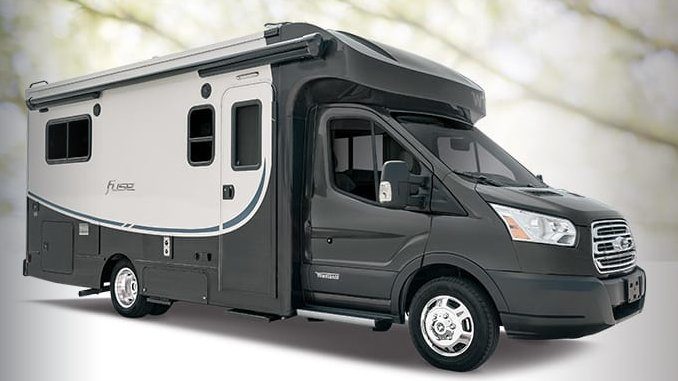 In our earlier reviews of Best Compact Class C Motorhomes, we featured the Winnebago Trend. That model is no longer available and has been replaced in their line up by Winnie with the Fuse.
The Trend was on a ProMaster Chassis whereas the Fuse is on a Ford Transit Chassis. The new Fuse also comes with a 3.2L I5 diesel engine whereas the Trend was gas powered. There are few more changes we will get into later on in this article. It comes in three floor plans; the one we like best is the 23F, whose dinette lounge is on a slide out.
What we particularly like about the Fuse:
Lower profile, under 10.5 feet high (10'2″)
Under 24.5 feet in length (24′)
4 person dinette set
Bed that can stay made up
Good exterior storage (38 cu ft)
Both pantry & wardrobe closets
Availability of service (Ford product)
Double door refrigerator
2 100 watt solar panels standard
Can be purchased for less than $100,000 (list is 125K+)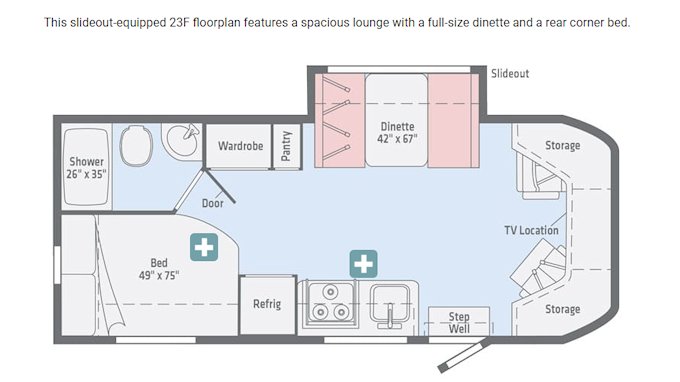 There are several other amenities that we'd appreciate but the above are the most critical for us.
However, compared to our present Winnebago Rialta (see our list of desirable Rialta Features here), there are some important losses if we were to transition to the Fuse 23F. We'd lose:
The huge rear-facing picture window we love
Natural lighting, no skylight and less sq. ft of windows
Parking in regular parking space (21 vs 24 feet)
Aerodynamic and attractive body style
Comfort getting into and out of bed
Of the losses, the last one may be most critical. In order to have several other features we like, the bed setup in the 23F requires that you climb in and out from the foot of the bed. Could be a major hassle for the middle of the night potty session or when one of us gets up earlier in the AM having to throw off the covers to get out of bed.
Another one that is hard to grasp unless you had several days of experience with it . . . is the loss of natural lighting. With fewer windows and less glass area, the Fuse needs a nice big skylight. These compact Class Cs are small. Lots of natural light helps make them feel larger or not so squeezed in.
We'd also morn the loss of our huge rear-facing picture window.
2020 Winnebago Fuse Update
For 2020 Winnebago has added a third floor plan (23T) that features a slide out queen bed. The unit also has a dinette area with seating for 3. The slide out bed with room on both sides of the bed eliminates the concern we had with the 23F model having to crawl into bed from the end. But the Fuse still doesn't have a skylight and the lack of adequate natural lighting remains a concern.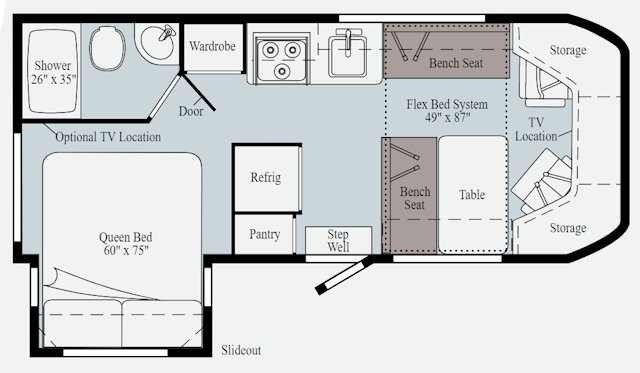 Still Searching for an American Right-Sized Class C Motorhome
As we concluded in our earlier article on Best US-Canadian Compact Class Cs, the Phoenix Cruiser and the Thor Compass come closer than other US-Canadian RV makers to the European standard of right-sizing RVs, but not good enough in our opinion. Guess we'll have to wait for the US-Canadian RV market to change before we can seriously consider replacing our Rialta. We are looking for a model under 23 feet, under $100,000 price, external storage for at least two golf bags, with all the usual RV accessories and comforts, and most of the the criteria we listed at the beginning of this article as plus-features of the Rialta. Know of any model that comes close? Write me in the comments.
November 22, 2020 Update – Winnebago just announced the New EKKO, a European Styled Compact Motorhome we've been requesting for several years. Unfortunately, the MSRP starts at $163,662!! And it replaces the FUSE in their lineup. See our article on the Ekko and other 2021 Compact Motorhomes.
With Winnebago dropping the Fuse motorhome in 2021, Winnie fans no longer have a more modest priced Class C option for compact motorhomes. So if you are a Winnie fan who can't afford an Ekko, you need to look at the Winnebago Solis PX as a possible option.
More Motorhome Review Articles