Are Aktiv and RoadTrek Class B Motorhomes going out of business?
As many Aktiv and Road Trek owners know by now, on Feb 15, 2019 Erwin Hymer Group North America, Ontario manufacturer of RoadTrek, Hymer Aktiv, and Carado Class B motorhomes ceased business operations, laid off all their employees, and was placed into receivership by the courts.
Hymer Group NA's indebtedness to over 900 creditors was estimated at 273 million dollars. According to one source close to the company "profitability . . . was materially exaggerated or otherwise mischaracterized" and it may have been going on for years." Read article here:
The abrupt ceasing of business operations has both dealers and owners of RoadTrek and Hymer camper vans left holding the bag, with concerns over future service . . . and in the case of dealers what to do with new inventory whose reputation has been severely tarnished.
Recent Good News for RoadTrek Motorhomes
On April 19, 2019 it was announced that Rapido SAS, a french motorhome manufacturer, has signed a binding letter of intent to acquire the RoadTrek RV brand.
They have ". . . agreed to purchase substantially all of the assets of EHGNA relating to Roadtrek. Rapido has the intention of assuming the lease of one of the existing manufacturing and assembly facilities. Subject to ongoing due diligence and the execution of a definitive purchase agreement, Rapido plans to re-establish and re-invigorate the Roadtrek business."
Rapido's President, Pierre Rousseau, commented that "Roadtrek is a well established leading brand in the B Class segment of the RV market. Our priority will be to re established operations and further develop this famous brand in North America." Article Here.
This is good news for RoadTrek owners and dealers but we should expect it will likely be months before operations resume to anything close to normal.
Uncertain future for the Hymer Aktiv RVs
The fate of service for or future sales of the Hymer Aktiv and Carado motorhomes lines remains uncertain as Rapido did not purchase those brands nor their manufacturing facilities.
Readers of my Class B Motorhome Review know that I was a fan of the Hymer Aktiv 2.0 as it incorporated many good features of European RV motorhomes that I've wished we'd see in units available here in North America. Since Rapido SAS is a European manufacturer we may see some of these neat features showing up in future RoadTrek models or we may see the Aktiv 2.0 vehicle being simply re-branded as a RoadTrek.
Another possibility is seeing features of the Hymer Aktiv 2.0 showing up in future models introduced by Thor Industries as Thor acquired the entire European Hymer manufacturer in January 2019. (Originally Hymer North America was to be part of the deal until Thor discovered the financial irregularities of the Ontario subsidiary). At the recent RVX industry show in Salt Lake City, Thor introduced a prototype Class B RV, called "Sequence" which CEO Bob Martin indicates is a prelude to Thor's future emphasis on Class B Van and smaller motorhomes.
---
The "New" 2021 RoadTrek – See our Review
---
Winnebago Travato Big Winner in Class B Motorhomes
In 2018 the Hymer Group was North America's second largest producer of Class B Van Motorhomes, second only to Winnebago. Together they accounted for 70% of new Class B motorhomes sold in the US. Now that Hymer is disabled, Winnebago's line of camper vans and compact RV s will dominate the market. They offer a range of models built on three different chassis choices: Ford Transit, Mercedes Sprinter, or the Ram ProMaster.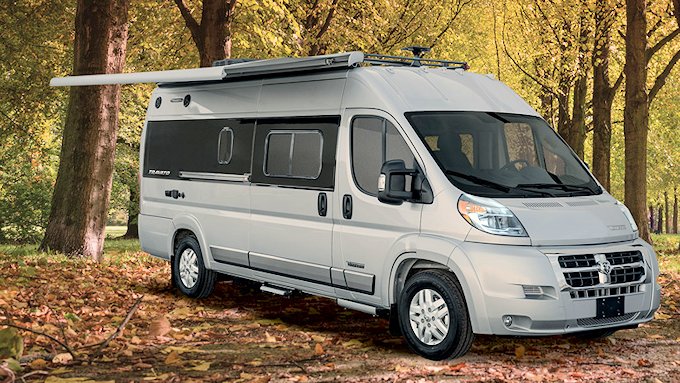 The Travato, built on the ProMaster platform, is our favorite for features we have discussed in our Travato Class B Review. It has most interior room because the ProMaster is wider than the other two chassis options. We also liked it because it incorporated many of the space-saving European motorhome features, including the front dinette lounge which allows the option of the rear bed remaining in place at any time. We liked the layout of the Aktiv 2.0 even better . . . but alas that motorhome is no longer available.
Best Class B Motorhomes
So earlier we nominated 3 motorhomes or camper vans as best in Class B, the closing of Hymer & RoadTrek manufacturing has trimmed that list to one: the Travato.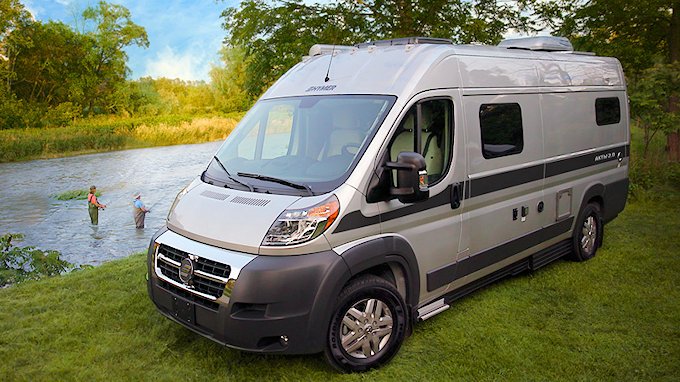 BTW Some readers may wonder why we excluded several Mercedes Sprinter Class B motorhomes from consideration. Because the Sprinter Chassis is narrower than the Dodge ProMaster, most manufacturers have elected to go with the 24.5 foot long version to attain decent interior space. We think that length no longer makes it a compact motorhome. Other factors weighing against the Sprinter are you pay about $10 – $20K more for a given coach layout and features on the Sprinter chassis and then when it comes to service, you also pay quite a premium at a Mercedes dealer. (And some Sprinter owners have complained some dealerships won't work on their chassis).
Other Camper Van Alternatives. If you are willing to consider smaller and custom RV manufacturers, there are some attractive alternative Class B Camper Vans that offer convenience, efficient use of space, and a competitive price. (We'll be writing an article soon on these custom alternatives to major brand RVs). Another option is to build your own Camper Van using Modular Camper Conversion Kits (see our article), making the process easier than a total custom-build, plus the added flexibility of any conversion back to a cargo or passenger van as the need arises.
Links:
---
RV Traveling & Camping
Cedar Key a hidden gem of the Gulf Coast. See our article on camping, hiking, and interesting things to see and do in and around this unique Florida Gulf Coast community.
Full Featured, Compact Trailers – Airstream and Alternatives – Check out our review of best options, if a motorhome prices you out of the market or you want more living space than a class B provides or you prefer the flexibility of a trailer over a Motorhome.