The fun island community of Cedar Key (see our first article here) is to date our favorite Florida Gulf Coast Beach town. It is what a friend termed what "Key Largo" used to be. An artsy, fun place that has some neat restaurants and attractions . . . but remains very accessible. You can find a place to park and is an easy town for walking, although golf carts seem to be the most popular mode of transportation.
The town of Cedar Key is actually a number of small islands joined together by bridges. Our favorite past time is just walking around town stopping in the various shops and boutiques looking for what is new or changed since our last visit and trying out new restaurants and cafes. Life slows down in Cedar Key and just enjoying the ocean breezes and views is sometimes all we need from a day.
Top 10 Things to Do, Places to see in Cedar Key, Florida
Actually we had trouble trimming the list so here's our top 12 things to see and do. 🙂
Cedar Key Welcome Center: on 2nd Street
The Chamber of Commerce Welcome Center should be one of your first stops for maps, brochures, and recommendations. They also have an interesting video on the area's Clam Industry
Enjoying the Food and Ambience of Cedar Key Restaurants & Cafes:
See our restaurant reviews and lists of the Top Restaurants & Pubs in Cedar Key Plus Links to our Reviews of best places.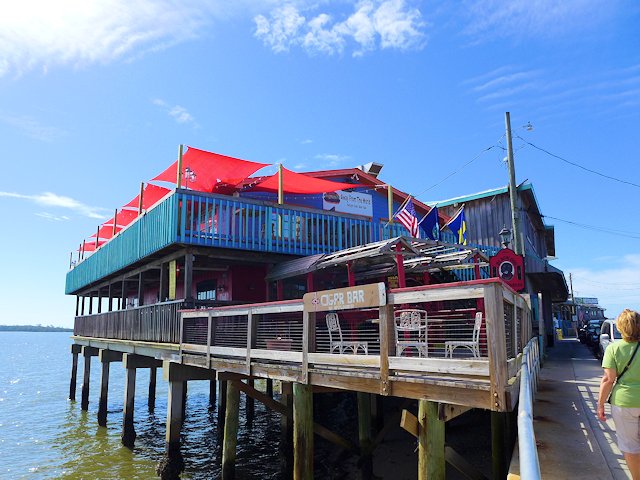 Cruising the Artisan Galleries & Boutiques:
Most galleries are along 2nd Street, D Street, & Dock St.
Walking the Cemetery Point Boardwalk Hiking & Nature Trail
See waterfowl and Osprey along boardwalk, the trail finishes at Cemetery Point Park that winds through a fitness course with several fitness stations along the park trail. See our links lower down the page.
Exploring the Railroad Trestle Hiking and Nature Trail
An interesting, easy-to-walk half-mile trail filled with many native plants & wildflowers that are identified with markers. See links lower down the page
Walking-Riding around the Historic District
Enjoy seeing some of the island's oldest homes and cottages that have been lovingly restored and landscaped. You can get a walking tour guide book from Cedar Key History Museum.
Visiting Cedar Key Museums:
Cedar Key Historical Society & Museum – on 2nd Street
Cedar Key Museum State Park
Kayaking/Paddle Boarding among the islands and bayous
Kayak/paddleboard Rental at available next to the City Beach & from Cedar Key Paddling. It is very easy paddling and exploring the bays, bayous, and around the islands because the area around the Keys is shallow and protected by numerous islands.
Renting a Bike or Golf Cart to Buzz around Town
Carts are ubiquitous, easily the most popular mode of transportation around town, available for rent at several places. Bicycles are available too.
Enjoying the City Beach & Park
There's a nice sand beach for sunbathing, playing volleyball, having a picnic, kayaking, paddle boarding, swimming. Just relaxing and enjoying the sun and ocean breezes.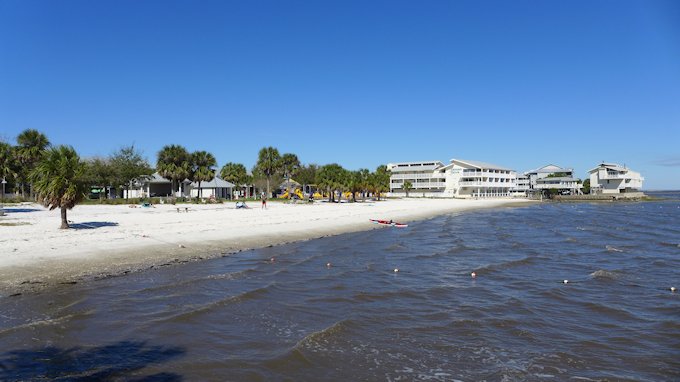 Taking an Island Boat Tour: Tidewater Tours.
On Dock Street by Marina. The boat tour visits several islands around Cedar Key Sound. You'll likely see dolphins coming near the boat. You also get a fascinating insight into the history of the islands and communities that have formed around the islands. You can also visit the historic Seahorse Key Lighthouse and the Nature Coast Biological Station.
Fishing Pier & Charter Boat Fishing
If you want to fish from the extensive fishing pier, you can rent fishing tackle and get a license from Cedar Key Paddling. If you want to do some fishing out in the sea, several Charter Boats can take care of you.
---
---
Cedar Key & Cedar Key Wildlife Refuge Links
Nearby Cedar Key Attractions
Shell Mound Campground Cedar Keys Natural Area:
Access off of County Road 326
Shell Mound Nature Trail and Boardwalk
Dennis Creek Hiking & Nature Trail
Kayak-Canoeing – Rent from Cedar Key Paddling
Lower Suwanee National Wildlife Refuge-Hiking & Nature Trails:
Access off County Road 347
Refuge Nature Drive Loop
Refuge Headquarters – River Trail & Boardwalk, Tram Ridge Trail
Manatee Springs State Park – see our review:
At End of County Rd 320 from Chiefland
Spring Pool and Manatees
Hiking & Nature Trails
Boardwalk to Suwanee River
Kayak & Canoe Rental
Chiefland Golf Course – see our review:
On Country Rd 320, near Manatee Springs Park. We've found this a fun golf course, with reasonable rates, and a friendly staff.
What are your favorite places or attractions in Cedar Key. Let me know in the comments below.
Your Travel Guide: Ross Reinhold