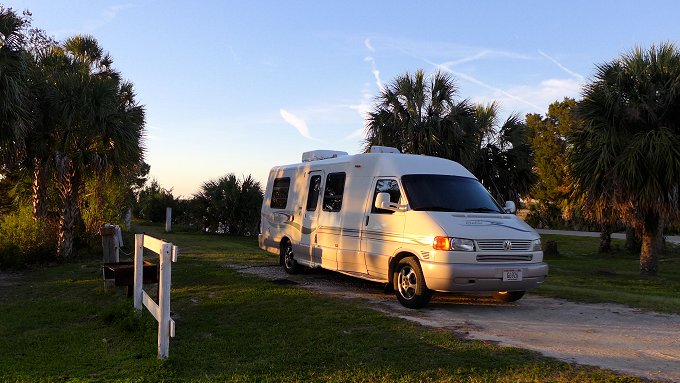 Cedar Keys National Wildlife Refuge and Shell Mound Campground
Immediately North and East of Cedar Keys town is Florida's Cedar Keys Wildlife Refuge. In the middle of that refuge is the Levy County Shell Mound County Park that has both RV campsites and tent campsites at prices considerably less than the fare in Cedar Key proper. From the town of Cedar Key it is about an 8 mile drive. You go north on Highway 24 about 3 miles, then Highway 347 for about 3 miles, and then turn left when you get to Highway 326.
Most of Shell Mound's RV sites have both electricity and water-hookups, some are electric only and there are a few tent sites with no utilities. There is a full-service washroom/shower building and an RV dump site. The campground also has its own boat launch and a place to park trailers. The campground managers are on-site during the day and we found them very friendly and helpful. There are no reservations, site occupancy is first come, first served. There's a 7 day maximum stay, So even during popular times of the year, you might be able to get a site there. The camping fees are reasonable, even with a recent 50% increase.
Since the campground is set within the Cedar Keys Wildlife Refuge it is remote, surrounded by woods and is generally quite quiet. The only noise we heard during our stay there was when an airboat launched at the boat landing. Some of the RV sites have a decent slope to them so some leveling blocks would be necessary for these particular sites. The road that circles through the park is paved and many sites are graveled. The camping sites generally have some shade, and offer adequate separation from neighboring sites. The sites that are electric-only (no water and lower priced) are more open and on grass vs. partially graveled.
Hiking Trails: Shell Mound Campground
There's a short trail near the boat launch that leads out to a spit of land providing a view of the bayou and islands of Suwanne Sound. While technically not in the Levy County Park, within walking distance down the road are two hiking/nature trails in the Cedar Key Wildlife Refuge that surrounds the county park.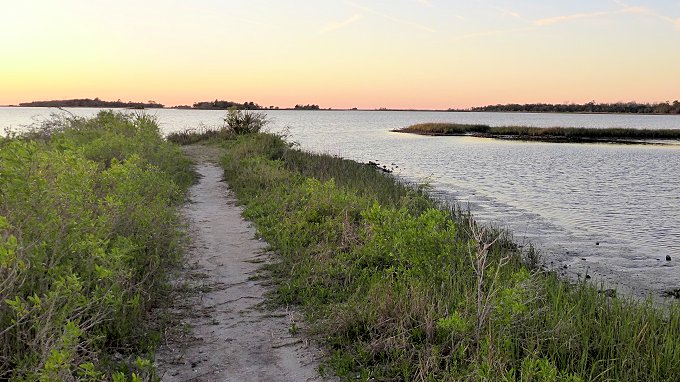 Review: What to Like About the Shell Mound County Campground
Reasonable Price. Although the County increased the RV site rate 50% between our stay in 2018 and the recent one in 2020, it remains quite a bit more reasonable than those in or nearer the town of Cedar Key.
Convenient to the attractive Gulf Beach town of Cedar Key. It is less than a 10 mile drive to Cedar Key. Some campers with bikes will bike to town. The only portion where you might encounter any traffic is on Hwy 24 before the Cedar Key bridge. Once in town, you have slower speed limits and a bike path.
The Cedar Keys Nature Area & Hiking. The park is surrounded by the Shell Mound portion of the National Wildlife Refuge. Within walking distance down the dead end road that runs past the campground are the trail heads for two hiking/nature trails within the Refuge. There's also small park there with boardwalk leading to an observation deck overlooking a portion of the Keys and a canoe/kayak launch area.
First Come, First Served Reservations. We like the fact the park offers no advance reservations. During the winter-spring season, it can be very difficult to get a campsite near a popular place like Cedar Key due to sites being reserved in advance. So the Shell Mound park means we have a chance to score a campsite mid-week at the last minute. During the day there is an office phone # you can call to see if the campground is full or not.
Review: What Not to Like About the Shell Mound County Campground
Airboat Noise. The boat ramp is apparently a popular launching site for locals who own flat bottomed airboats that are driven by huge aircraft propellers. While impressive to see, for those who have never seen on up close, the noise they make when taking off or arriving at the landing is deafening. You'll most likely be treated to this experience Fridays – Sundays. The noise doesn't last that long. Mainly it upsets people because it is such a stark contrast to what is otherwise a very peaceful and serene setting.
Sloping or Wet Campsites. Unless you get to the park early enough and/or during a non-busy period, your only site choices will be one of the very sloping campsites (so bring levelers) or parking on one of the low land, grass-covered sites that could get wet with a significant rainfall. So far, we've been lucky.
Old Washroom/Showers. While in general we've found the bathroom and showers clean, the washroom and showers fixtures are old and showing their age, and the building itself is a rustic cider block construction. But as I said it is clean and we found the hot water came quickly in the showers.
Shell Mound Camping Rates and Reservation Information: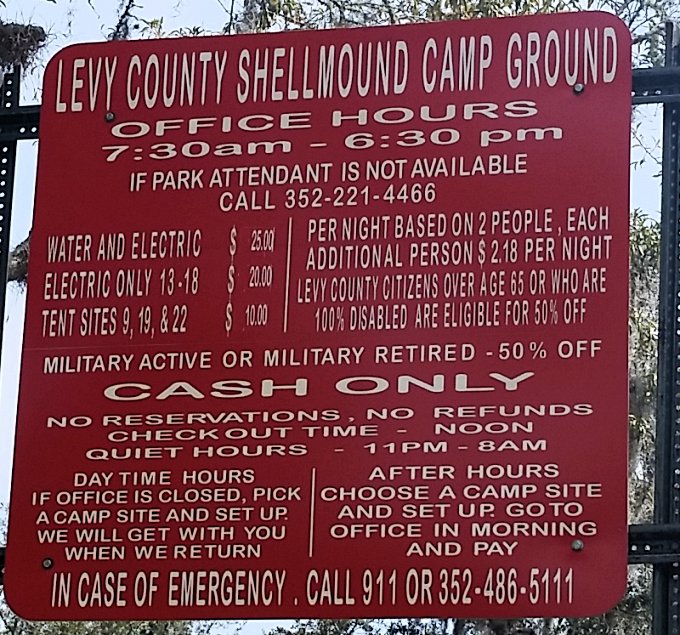 Other Cedar Keys Area Campgrounds
If you don't mind paying a premium and being in a busier, more crowded campground here are your three choices:
A little further away (29 miles from Cedar Key) is Chiefland, Florida where the are some good options. During our previous stays in the Cedar Keys area we have also camped at the Manatee Springs State Park campground which is about 33 miles from the center of town. Manatee Springs has an excellent campground, reasonably-priced and offers other amenities we like. They do offer reservations so if you want to guarantee a camping spot for your visit to Cedar Keys, this is a good option.
Another very good option in Chiefland is Strawberry Fields RV Campground, a new facility on the East edge of town. We'll be doing a review of this campground, shortly so stay tuned.
More Articles on Cedar Key Visitor Attractions: