Scenic Travel, Camping, and RVing Guides
While we love and find the Internet very handy for planning our RV and motorhome vacations (for example, see our recommended RV Traveling Links), a good guidebook can save lots of Internet browsing time in the pre-trip planning stages and is invaluable as a resource to take with you on the trip. All of these books are available on Amazon at their lowest price. You'll also see recommendations on other similar books to these.
National Geographic Guide to Scenic Highways and Byways, 4th Edition: The 300 Best Drives in the U.S.
You might expect a National Geographic book will be well illustrated. There are some 375 photos and 280 detailed maps covering 300 scenic drives in 50 states. As a guide book it is well-organized and because it is a National Geographic publication its' recommendations of places to visit carry much credence.
*********
The guides below cover some of the important facets of RV and Motorhome vacationing, as well a scenic USA travel in general (by car, bus, train or plane). As guides to scenic drives and scenic places, the publication to the right and the first two books below will help you find new and interesting places to visit. The next five recommended books are guides to various kinds of campgrounds and RV parks from economical places to boondock to full-service RV parks and state and national parks that offer camping and RV facilities. Rounding out our selections are an informative buying guide for people shopping for a motorhome, a guide for people considering full-time Rving or extended RV travel trips beyond the usual vacation trip, and a guide on maintaining your RV as well as lots of tips to make your traveling more pleasant.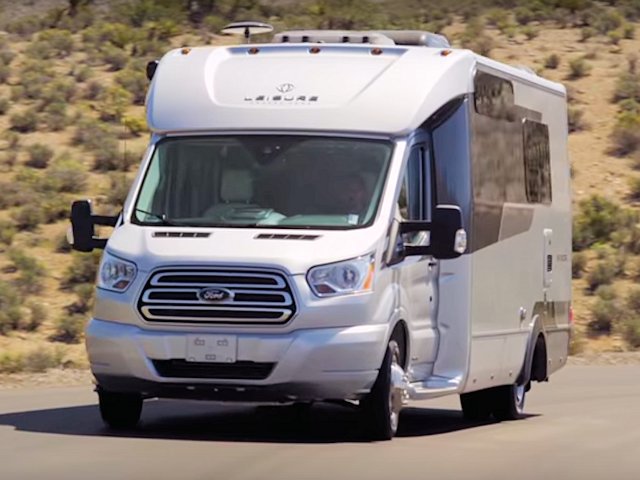 One guidebook we did not include was Coleman's Guide to National Forest Campgrounds, which we own and have used. Unfortunately the guide hasn't been updated since 2003 so it includes information that is outdated and inaccurate as some facilities have been closed, others modified, and the published rates are quite old. And with many facilities now being maintained by private contractors you can experience varying degrees of service and maintenance. For the present your best guide to National Forest Campsites and Campgrounds would be the Internet. (See our National Forest links here).
More Recommended Travel and RV Guides & Books

A Travel Guide to More Than 1000 Scenic and Interesting Places
"
Off the Beaten Path
 spotlights over 1,000 of the United States' most overlooked must- see destinations. In a state-by-state A-to-Z format, this budget-friendly vacation planner reveals the best-kept secret spots. . . . Revel in nature, science, art, and culture, and encounter the unexpected as you explore undiscovered gems."


The Most Scenic Drives in America -120 Spectacular Road Trips
We have an earlier edition of this book and love it for planning our RV and camping trips. Lots of maps, easy to read text, and photos. The index is a visual map showing scenic drives by state and region with page listings to read about each scenic drive.


Guide to Free & Low Cost Campgrounds
This is a great resource for budget-minded campers and RVers. It is also a handy guide for economical over-night stays when traveling to a distant location and all you want is reasonably safe place to sleep en-route. While Jellystone Parks fit the needs of some, when we are traveling to a far distant destination in need of an overnight stop, we hate to waste money paying for extra facilities we won't be using.
Guide to Campgrounds Built and Operated by the U.S. Army Corps of Engineers
We love Army Corps of Engineering Campgrounds as they are known for their well-designed facilities and maintenance, as well as reasonable prices – made exceptionally reasonable if you have a America the Beautiful Senior Pass. Whatever region we are traveling to, we always look for a convenient Corps park as our first go-to spot.


National Geographic Complete National Parks of the United States
What I particularly like about this guide and travel planner is that while covering the 58 official National Parks it also profiles nearly 350 additional properties in the Park Service's domain. The premier Parks are described in detail, but equal attention is given to the National Monuments, Memorials, Preserves, Historic Sites, Battlefields, Cemeteries, and Seashores, not to mention a network of "National Trails" and even the intriguingly referred to "Affiliated Areas." Gets 4.5 out of 5 stars from readers.
Not all state parks with campgrounds have good facilities for RV travelers. This recently updated guide book provides information on more than 1,730 state parks, forests, and recreation areas in 49 states that offer accommodations for RVers. It includes details like location, directions, GPS coordinates, and contact information. Also provided is the number and type of hookups, season of operation, RV length limit, and availability of showers, dump station, Wi-Fi, and more. Reviewers gave it 4.5 out of 5 stars.


Casino Camping: Guide to RV-Friendly Casinos
An excellent resource as Casino campgrounds are known for offering first-rate RV facilities at reasonable prices. Some even accomodate free overnight boondocking. Next to finding a convenient Corps of Engineering park, a casino RV park is our next go-to for a good value for an overnight stay with decent facilities and hookups.
This motorhome comparison guide provides ratings and profiles of 45 RV motorhome manufacturers in the US and Canada. Includes tips and guides on making a sound purchase, plus a state-by-state listing of the top 100 Motorhome Dealers in the US. While the Internet is useful for getting information, this book will save you lots of browsing time culling down the list of possibilities.


RV Full-timing,
Motorhome and RV Retirement Living
Thinking of living full-time in a motorhome or RV or perhaps taking a several month vacation in your home on wheels? This is the book for you. How to do it comfortably, safely and affordable. From readers, gets 4.7 stars out of 5.
Great for new RVers and veterans alike. Contains loads of tips that will make your RV travels easier, safer, more enjoyable and save time and money. Also includes tips on RV Mods – how you can customize your RV to make your home.
2018 Rand McNally Large Scale Road Atlas (Rand McNally Road Atlas)
We love this atlas for the large size of the maps, great detail, and ring binding that allows it to fold flat when opening the pages. Well worth the extra cost over the usual road atlas.
50 States, 5,000 Ideas: Where to Go, When to Go, What to See, What to Do
From National Geographic. Great guide to interesting places to visit in every state. "Sites include national parks, beaches, hotels, Civil War battlefields, dude ranches, out-of-the-way museums, and more." Also includes information on Canadian provinces. Great supplement for trip planning.
Have you a favorite RV Traveling Resource? Love to hear from you.
Happy Traveling