7th Annual Rock On! With Lake Superior Agates Festival . . . and Lake Superior Rock Hound convention.
While the weather was cooler than normal and overcast at night, shortly after the opening bell of the show at 10 am each day, the sunshine appeared. Two rows of campsites were filled with exhibitors and vendors for the two day show. Most had agates, gemstones, and unusual Lake Superior rocks on display. Many of the vendors offered artisan creations using agates, gemstones, and polished rocks as part of their art or product. As before a nice backdrop to touring the show were the pleasant tunes provided by musicians and singers Gordon Fergin and the Sunshine Band (Edwin and Augusta Birdsley).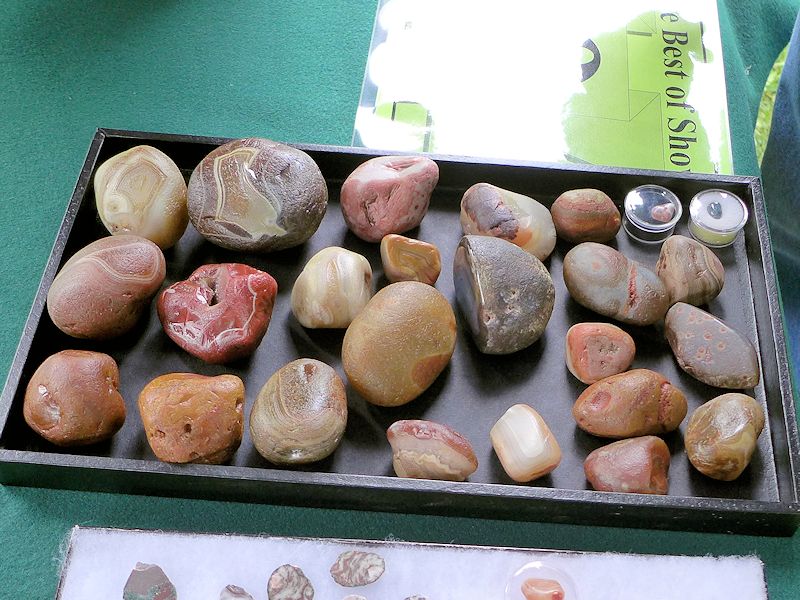 Another part of the show involves festival attendees casting a ballot for "Best of Show" among the vendors who were exhibiting their collections. A friend of mine, exhibitor Jeff King, displayed some of his biggest specimens all of which were collected on Lake Superior beaches between Grand Marais, MI and Whitefish Point. These guys aren't as shiny as some because they are not polished – just oiled. (see picture to the right)
Rock and Agate Hunting on the beach wasn't as productive as last year. Jo found two, for sure Agate specimens, and a few more that are "maybes" but last year she found five Lake Superior Agates. However, even when we don't find much in the way of agates or unusual stones for polishing, we still enjoy walking along the Lake Superior's beaches scanning the water and shoreline for that elusive find. The crisp Lake Superior breeze, the lapping of the waves on the shoreline, and the exercise is therapy for the soul. We always come back with something to add to our collection, but even if not, the "hunt" itself is reward enough.
Because we always spend some time on the beach agate and rock hunting, we never get to attend all the talks, presentations, and demonstrations so we are glad some were repeated from last year. One of the presentations I always enjoy is by Agate Lady Karen Brzys of the Grand Marais Agate Museum. She has a new DVD out on "How to Find Agates" that we'll be getting. Karen believes you can train your eye and your mind to be much more effective and efficient in finding agates along the lakeshore. We shall see if it works as I do need help!
Information on Attending the Agate Festival
If you plan on attending a future Rock On Agate Festival, here's a few things to know to help your planning.
Lodging. While earlier shows were at Muskallonge State Park, more recently the event has moved to Grand Marais, Michigan. The Woodland Park campground has about 150 campsites. About 120 sites are set up with utilities for RVs (Tents are OK too) and about 25 tent-only sites. While Woodland Park offers some advance reservations, the majority of the sites are offered on a first come, first served basis. If you haven't grabbed one of the early reservation sites, we recommend you arrive a day or two earlier to better ensure you get a site. If you can't get in there, and you need electric hookups, try the Seney Township park 25 miles South of Grand Marais.
If you are not in an RV, go here for lodging in the Grand Marais area.
Daily Schedule. Saturday has the most presentations and is the busiest of the two days. Some of Saturday's presentations are repeated on Sunday and a few presentations are only on Sunday. If you aren't staying in the park, the less crowded day for parking would be Sunday, but there will be more things going on on Saturday. We found many of the demonstrations, presentations and talks were repeats of the previous year's show so looking at the 2013-14 Schedule of Events will give you a good idea of what to expect.
Agate Festival Pictures
Here's a slide show of pictures from an earlier Rock On Agate event to give you a taste of the show.
---
---
Agate Hunting, Polishing, Rock Hound Links:
Here's a few pages on beach rock, agate collecting and rock polishing from our Rock Hound pages on SuperiorTrails.com
Ross