Reviewing the RoadTrek 210
See our introductory article on Best Class B RV MotorHomes.
There are probably more Class Bs on the road by Road Trek. They began in 1974 as a custom van manufacturer creating the Home & Park brand from Dodge Vans. The first fuller-featured RoadTrek was introduced in 1980. They currently offer 10 models with a range of options within each model allowing customizing to your tastes and needs.
Unfortunately the RoadTrek 210 that we profiled in this article, and liked very much, is no longer being made due to the company discontinuing operations.

So see our article on Best Class B Motorhomes for 2020-21
The 210 Popular Model is a very handsome unit with lots of nice amenities in a vehicle that is less than 22 feet long. It's powered by a Chevie vortec 6.0 V8 gas engine and built on the Chevrolet Express chassis. It has pleasing aerodynamics, less than 9 feet tall (including AC unit) but the interior height will still allow a 6 foot 2″ person to stand tall.
Some of the standard features I liked was a nice size 5.0 cu. ft refrigerator-freezer, the galley with more-than-average extra counter space, and the pull-out dining table for the front captains chairs. This last feature allows you to leave the rear couch-dinette-bed unit to be kept as a made-up bed during the day. A wardrobe or armoire is available as a replacement for one of the lounge seats.
RoadTrek has also extended the Chevie Van width to allow more external storage than you often find with Class Bs and a wee bit more interior room. This customization of the coach portion of the van makes it what some might call a B+ Class as it is wider and longer than the Chevie base van. Because they added length and width to the standard van, this added extra weight and probably accounts for the more modest 1000 towing capacity.
An option I'd recommend is the EkoTrek battery management system featuring lithium power module that greatly extends living off-the-grid or boondocking. It will run both 12 volt and 110 appliances and because of the battery technology and the unique underhood gen set, recharging the batteries is much quicker.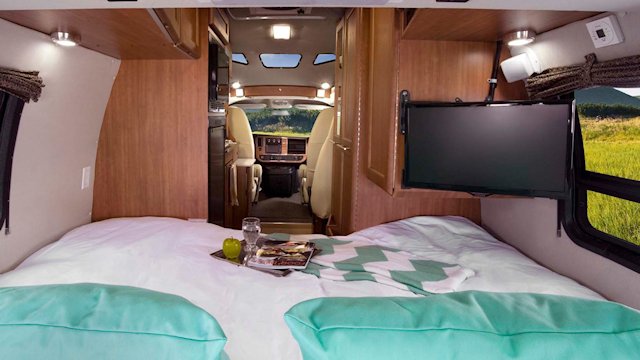 The RoadTrek 210 MSRP is $128,952 pricing it similar to Mercedes/Sprinter model Class Bs. The trade-off is that instead of the Mercedes diesel power plant and Sprinter chassis you get easier and less expensive service with the Chevie Chassis and Powertrain and a bit more interior/exterior storage space than you'd get with a Sprinter model. Since the base price is on the high side, one disappointment was the number of features listed as optional that are standard in some competitive units that have a lower price tag. In our search for units for sale by dealers, we couldn't find any offering the 210 model. Price point could be the problem. Buyers who can afford a $130,00o to $140,000 unit may not pay that for a Chevie but would for Mercedes. (These Mercedes buyers are likely to find that they pay a premium a second time whenever they need service!) Most dealers preferred to offer the RoadTrek models under a $100,000 MSRP. But those less expensive models didn't meet enough of our criteria to qualify.
See our reviews for 2 other Class Bs that are less expensive yet offer many deluxe features.
Important Feb 18, 2019 Update. Bad News. The venerable RoadTrek brand has just suffered a potentially fatal blow. Hymer North America which acquired the Ontario RV manufacturer a few years ago has just laid off its entire workforce and announced it is going into receivership. Apparently some malfeasance by members of the upper management were part of the problem. Read more about the Hymer Layoff here.

May 1, 2019 Update. Good News. The RoadTrek Brand & Manufacturing Facilities (read article here) have been acquired by French motorhome manufacturer Rapido SAS.

December, 2020. RoadTrek rises from the ashes: The "New" 2021 RoadTrek – See our Review