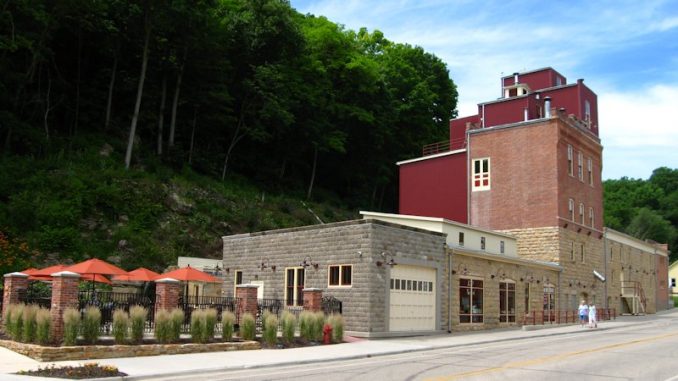 Potosi Brewery and the National Brewery Museum
The Potosi Brewery located in the river town of Potosi began operations in 1852 and became one of Wisconsin's largest breweries with a nationwide distribution. But due to the consolidation going on in the brewing industry had to close its doors in 1972. The building remained vacant for several years until revived in the 2008 following a $7.5 million restoration. The brewery is also home to the National Brewery Museum, the Great River Road Interpretive Center, a gift shop, and a brewpub, restaurant, and beer garden.
The brewery also offers guided brewery tours that include a guided tour through their state-of-the-art production facility, four 5-oz beer samples in the Brewery Tasting Room while watching an informational video, a Potosi pint glass from the gift shop and one pint of the Potosi tap beer of your choice from the Brewpub.
Located across the street in the old Potosi Bottling Plant is the the Whispering Bluffs Winery and tasting room, the Bottle House Gifts and Ice Cream Shop, and other artisan shops.
Potosi National Brewery Museum
The National Brewery Museum is located on the second and third floors of the brewery. There are several rooms of collections of brewery signs, photographs, cans and bottles and other memorabilia from breweries and former breweries across the country. Many of these collections are loaned to the museum by private collectors. There are also exhibits of antique brewing and bottling machines and several touch screen audio-visual stations with a variety of brewery and brewing programming.
A person could easily spend hours touring the various exhibits, reading the stories and looking at the photographs of various breweries that are now extinct. Some of these breweries that disappeared were quite large operations.
My wife Jo was surprised to learn that there was a brewery in her former hometown of Highland, Wisconsin. It ceased operations during World War II so it wasn't around when she came into this world. But from photographs in the exhibit, the building itself was still around in 1960. So we are curious if it still exists today. (See pix).
Being from Wisconsin, we were most interested in the history of Wisconsin breweries. It is amazing the huge number of them that existed in an earlier era. It seemed any village of even a modest size had a brewery. One reason for the large number of breweries is Wisconsin's germanic ancestry; immigrants brought with them the taste and technology of their favorite adult beverage. Another reason was the lack of modern refrigeration. This meant a breweries service area was limited to about 15 miles from the brewery. This was especially true prior to advent of the automobile.
Like many industries, brewing went through a period of consolidation. Refrigeration and the automobile, plus improvements in bottling operations greatly expanded the potential geographic market for brews. Larger breweries bought out smaller operations or just put them out of business through the market-place competition. The prohibition era put economic stress on some operations; those that survived switched to brewing soft drinks or non-alcoholic beers. Shortages of materials during World War II and men engaged in war put more stress on marginal operations. Today, some historic brand names still exist, like Pabst and Schlitz, but they are no longer independently brewed. They are just labels on a can or bottle coming from a Miller Brewing facility.
Going through the exhibits brought back memories of brands that were advertised when I was a kid and no longer around. Fox Deluxe is one I remember. Also memories of beers I drank as a young man that are no longer: Meister Brau, Gettleman's, Old Style, Hamms (from the land of sky blue waters), to name a few. One I tried once and from the taste I recall it made sense this one disappeared: Chief Oshkosh. It came in unique value-priced eight pack cartons and was economy both in price and taste! My favorite beer from my youth was Leinenkugels as it was only available in Northern Wisconsin where we traveled for vacation each summer from Chicago. Leines still exists and is brewed in Chippewa Falls, Wisconsin. It is still run by the Leinenkugel family although Miller Brewing is now its parent company.
We would have stayed longer and especially I'd like to sit and watch more of the audio-visual productions. But we were two hours past our lunchtime and we were getting quite hungry.
While there is a small free museum on the first floor featuring the history of the Potosi Brewery, there is a fee for touring the National Brewery Museum. But it is a very good deal because it includes a chit for a brew from the pub after your tour. And they had a senior rate which made it an exceptional deal! See our Potosi Brewery Pub and Restaurant Review.
Links: