See beginning of our article on St. Croix Interstate National Park here.
Part one of our article on the St. Croix park showed some of our favorite fall color pictures from the park and river. Below are few more for your enjoyment.
At the bottom of the page are links to the two State Park Campgrounds who are part of the National Park.
Fall Color Pictures St. Croix Interstate Park
– Click on image for a larger view
| | |
| --- | --- |
| | Walking along a wooded hiking trail in St. Croix Interstate Park |
| | |
| --- | --- |
| Looking down the Dalles of the St. Croix & the Angle Rock from the Pothole Trail | A close-up of the The Angle Rock bridge on the Minnesota side of the St. Croix |
| | |
| --- | --- |
| Enjoying a peaceful moment at the Lake of the Dalles in Wisconsin's Interstate Park | A colorful tree near the North Campground in Wisconsin's Interstate Park |
Recreational and Camping Facilities and Attractions
The parks are open all year. In the winter on the Wisconsin side there are 12 miles of cross-country skiing/snowshoeing trails; on the Minnesota side no x-c trails but they do offer some snowshoeing trails. Other times of the year Wisconsin offers 12 hiking trails totaling about 8 miles, whereas the Minnesota side has 6 trails, some of which include very unique geological formations. The parks are most popular in the summer offering rock climbing, hiking, canoeing and kayaking, fishing, swimming, and camping. The Wisconsin side has the largest campground sites (2 areas) but the Minnesota side is the only campground offering RV hookups. RV users on the Wisconsin side will need to "dry camp" but there is a dump station near the ice age center. See our links at the bottom of the page for maps and other information on recreational and educational attractions offered by the Interstate Parks.
Recreation & Visitor Links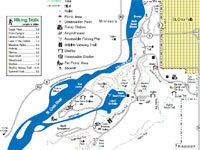 St. Croix Taylor Falls Tourism Falls Chamber of Commerce
Camping, Canoeing, and Kayaking on the St. Croix Wild and Scenic River
If you are interested in canoeing or kayaking the St. Croix check out the park service's Plan Your Visit page.
There they offer maps, tips, and resources on doing both day and multi-day trips on the river. Camping along the St. Croix River is only allowed in designated campsites. Most campsites are only accessible from the river by canoe or kayak and have a primitive toilet and a steel fire ring. St. Croix National Scenic River Website
---
See our National Parks Resource page for more ScenicPathways National Parks profiles.