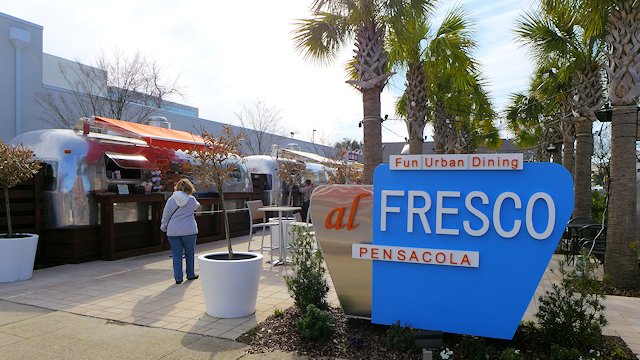 Pensacola Dining Reviews:
Fish House Restaurant, Hub Staceys, & McGuire's Irish Pub.
We can't tell you about the food or service at Al Fresco (pictured in the above photo) since we came upon it between meal times, but the ambiance is really cool. An outdoor cafe with umbrellas, palm trees, potted plants, and surrounded by 4 vintage Airstream Travel Trailers turned into Restaurant-Food Carts. Each of the Airstream Restaurants offers a different style menu. A fifth restaurant, the Shux Oyster Bar, also offers indoor dining options. Located at the intersection of Palafox and Main Streets, Al Fresco is near the waterfront, on the way to the Plaza De Luna pier. It is only a few blocks from the Historic Pensacola Village, and near downtown Pensacola as well. Next time we are in Pensacola on a nice afternoon, we have to catch a bite to eat here.
---
More Reviews of Best Restaurants in Pensacola.
---
Offering, in our experience, some of the best dining in Pensacola, the Fish House Restaurant is on an inlet of Pensacola Bay and is walking distance from the downtown historic district. There is an outside dining and entertainment deck (The Deck Bar) overlooking the docks but the weather was too chilly for that so we ate indoors. It is a comfortable dining atmosphere with skilled and friendly wait and service staff. The beer was served in ice cold steins, a touch I appreciate. For me one mark of an attentive wait staff is having my water glass refilled without asking, this happened three times.
The food was excellent. We ordered the crab and lobster cake appetizer, which at first I thought was a modest size for the price ($13) but we were surprised how filling it was, and it was tasty – worth the 13 bucks. Both Jo and I ordered the Grilled Salmon. While not from the local Pensacola fishery, it must be flown in daily because it is advertised as "fresh." It certainly tasted fresh, moist and served hot. Our sides were a grilled medley of veggies, plus cole slaw and black-eyed peas. All very tasty and good portion sizes.
I'd rate the pricing structure as mid-size yet a very good value considering the quality of food, service, and comfortable ambience of the restaurant. We will certainly dine here again.
Dining Review: Hub Staceys
While walking around Pensacola's Historic District, we happened to stumble upon a neighborhood pub called Hub Staceys , which is across the street from Seville Square. That day the park was hosting the annual "Smokin in the Square" BBQ competition and festival. Wonderful aromas were wafting in the air as competitors were beginning to smoke their entries. Unfortunately we were a day early to sample the "contestants" but Hubs sidewalk signboard advertised BBQ pork sandwich on a pretzel bun. So that plus the aroma's from the Square was enough to bring us in. Hubs is an old wood-sided corner building that looks like it has been a neighborhood bar for a long time. Inside it has a funky and friendly atmosphere befitting its neighborhood bar location. The BBQ sandwich was good but on our visit Hubs won't win awards for attentive service. Staff was friendly but they are content to wait for you to flag them down to place your order or get a refill. In their defense, the place was reasonably busy due to the festival in the park, but I suspect that local tradition is that you speak up when you want something!
Slide Show of featured Pensacola restaurants
---
---
McGuires is routinely voted one of the top 10 Florida restaurants. It is noted for its steaks and burgers as well as a few Irish specialties. The pub atmosphere is olde english, dark oak paneling and pictures, plaques, and memorbilia covering all the walls. The pub is large but broken up into several small, intimate dining areas. But its ceiling (and some walls) is most distinctive. Hanging from the ceiling (and pinned to some walls) are dollar bills, an estimated 1 million of them! Rumor is the practice was started by the first waitress who celebrated the opening of McGuires by pinning her first dollar tip to the ceiling. Jo had her usual mushroom and swiss burger; I had the Reuben on Rye recommended by our waitress. Both were top notch, served hot and moist in a reasonable amount of time. The portion sizes were extremely generous, so much that we took half our sandwiches home with us. Host and wait service was prompt, friendly, and attentive. The parking lot was quite full for a Thursday afternoon about 3pm, testifying to the quality of their food and service. Bonus – McGuires brews their own line of ales. After doing the sampler I chose their stout. Four and half stars.
Jo Patti's Fish Market & Captain Joey Patti's Seafood Restaurant
Jo Patti's Fish Market is Pensacola's large and busy ocean-side fish market carrying an amazing variety and quantity of seafood as well as a decent selection of condiments to accompany a seafood dinner. If you have never been to a large busy fish market before, it is worth a stop just for the experience – even if you aren't shopping. If you are shopping, you take a number and get served when your number is called. In addition to seafood, they have a decent sized deli area with a good selection of cheeses and sausage. Next door is Anna's Wine Shop. The Fish Market did offer a Sushi Bar, but neither Jo nor I are fans of raw fish, so this wasn't an option.
We stopped at Joe Patti's Fish Market with the intention of having lunch there as we had heard good things about their seafood offering. The Fish Market is a large building along the water front and hard to miss. What we didn't know at the time and did not discover until we got home was that Joey's Restaurant is not in the extensive Fish Market complex, but located a block and half away west of the Fish Market among several nondescript industrial-commercial buildings. So Joey's Restaurant is another review we have to do in the future.
Another restaurant on our dining wish list is Carmen's Lunch Bar Restaurant on Palafox Street.
Happy to hear recommendations from other Pensacola visitors. Make your Comments below.
Roscoe