Golf Courses Reviewed in this article:
Tiger Pointe Golf Club
Perdido Bay Golf Club
Lost Key Golf Club
AC Read Golf Course
Osceola Municipal Golf Course
Marcus Point Golf Club
See Links to golf course websites at the end of the article.
During our stays in Pensacola Florida in March, it has been my intention to sample number of Pensacola golf courses but on both visits rain and cooler weather restricted our opportunities. I did manage to golf two 18 hole rounds at Perdido Bay Golf Club and 9 holes on the west course of Tiger Point Golf Club. The staff at Tiger Bay call the west course a "practice course" due to its fairways and greens being somewhat sub-par in terms of condition. But for me not having golfed all winter it was a good opportunity to swing the club on a course (vs a golf range) to work out the kinks in a leisurely manner since there wasn't much pressure behind me. I was usually able to hit two balls and take some extra shots working on my short game. And the price was right: $20 for greens fee and a cart to golf all day long if you wish. However in 2015, the west course is closed and no present plans to remodel or upgrade it. The regular Tiger Point 18 looked to be in good condition for early March. Fairways greened up pretty good and the greens were in very good shape. Tiger Point is an open, links style course with some water and a modest amount of elevation change. Since the city of Gulf Breeze has taken over the Tiger Bay course the conditions and maintenance have improved so just about all of the recent golf reviews I read of Tiger Point are positive and it is a popular course, especially on days when there is a discount for senior golfers.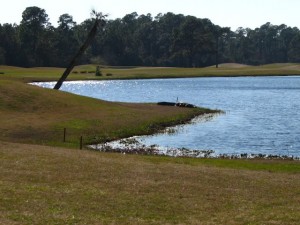 I very much enjoyed my two rounds of golf at Perdido Bay Golf Course. It is also an open links style course with a few pines and some palm or palmetto trees here and there. But the monotony I've found in some links-style courses is broken up by several fingers of mature residential areas protruding into the course layout. Some of these units are cottages that are available for vacationers. From the air the course would look like a hand with outstretched fingers. There is water on almost every hole, either on one or both sides of the fairway and at times stretching across across the fairway requiring you to hit over water to the green. One gentleman I talked with said a buddy of his lost 22 balls on one outing! I was a bit luckier than that. I found that the water hazards were quite fair, almost always giving you an "out" if you wanted to play it safe. Only one time did I feel the course "robbed" me of a decent score. I didn't look close enough at the score card to see that on number 16 a creek ran in front of the green. So after a half-way decent tee shot, I followed with a good 3 wood over the top of a bunker that I thought would be well-positioned in the center of the fairway in front of the green. But when I arrived the ball was no where to be seen and concluded it must have rolled into the creek in front of the green! On my second outing, I was in a similar position and opted for a 6 iron but again hit it too well and it also ended up in the drink. Google and golf review websites generally give good marks to Perdido Bay Golf Course. Particularly for golfing in the afternoon (when rates drop), it is an excellent golfing value. It also has an excellent practice facility: two chipping/pitching greens (one with a sand bunker), one putting-only green, and a driving range with numerous pins at varying distances in addition to the usual distance markers. Previously my favorite golf course practice facility was at Nemadji Golf Course in Superior, Wisconsin; Perdido Bay is even better.
We drove by the Lost Keys Golf Club. It is in a gated community and like Perdido Bay surrounded by residences and condo complexes, but with a little different look to the community because the Lost Keys area is a more recent development and has some high rise units while Perdido Bay's surrounding neighborhood are mainly more mature and lushly landscaped homes. The Lost Keys course looks to have a good deal of water lining the fairways and the fairways appear elevated or domed so that an errant ball will easily roll into the water. The course looked quite lush. The reviews I read of the course are generally positive. The rates are generally a little higher than Perdido Bay and I suspect that may be due to them being in a gated community versus offering a better golfing experience than Perdido Bay (the two clubs are only a couple of miles from one another).
Another Pensacola Golf Course that gets good reviews and has decent rates is Marcus Pointe Golf Club. Unfortunately it was 24 miles from our Fort Pickens campground and with three days of rainy weather occurring during the time I planned to make the trek out to this course I couldn't work it into our activities. I did stop by late one afternoon and had time to hit some balls on their driving range. Their practice facility is quite complete with chipping and putting greens, as well as a practice sand bunker. Unlike the Perdido Bay and Lost Keys, its fairways are wooded and the holes include a fair amount of elevation change. Many faiways are undulating and for mid-March the grass was in decent condition. Marcus Pointe is the kind of course I am used to playing and aesthetically one that I find more pleasing than the links style courses. Their rate structure is attractive, offering discounts for tee times after 10 am, after 1 pm and on special days. The golf carts are electric and look to be in very good condition. It generally gets good reviews on the web. They recently were purchased and are under new ownership. In fact a few months earlier, news was the new owners were closing the course but that changed in the interim. I hope the course remains open and is properly maintained because it is one I definitely would enjoy playing the next time I am in Pensacola.
The Osceola Municipal Golf Course gets good marks for decent rates and generally good condition. Like Marcus Pointe its fairways are tree-lined and it is located on higher ground than the courses closer to the ocean or gulf bays or lagoons.
I've been waiting over three years to play Oceola Golf Course every spring when we visit Pensacola and Pensacola Beach. I finally worked it into our itinerary in 2017. What lured me to try Oceola were decent prices with or without a cart. Jo and I often like to walk the course to get in our daily walking exercise while enjoying the game. We did only 9 holes on this visit as it was early in the season and we weren't sure we yet had the stamina for walking 18.
Oceola is a mature and nicely landscaped course, liberally sprinkled with Pines, Palmettos, and Live Oak Trees, helping to define the fairways. It is a mostly level course, but gentle mounds in the fairways relieve the monotony of a flatter landscape. The greens and tee boxes were in good shape and offered a set of 5 tees to accommodate a range of playing abilities. The fairways were somewhat dry, the grass somewhat sparse and some creek beds were dry. It was late February so most courses in Pensacola hadn't finished greening up. And I believe so far in 2017 they have had less than normal winter rainfall. So with some rain and a little later in the season I'd expect the fairways to perk up nicely.
Overall a very playable and walkable course with fair prices. For me, a senior and middling golfer, it had sufficient challenge so I look forward to playing 18 the next time we visit Pensacola. However, lower handicap golfers may find it less interesting even playing from the longest tees. But for your money, you definitely get value.
The Scenic Hills Country Club has been recently purchased by the University West Florida. Not many reviews available online for it but one I found from the summer of 2013 indicated that the university had yet to make much needed improvements to the course. The rate structure looked good so may be worth a look-see. In 2015 I continued to have difficulty getting good information online about the course, so that concerns me. It also is quite a drive from downtown Pensacola and Pensacola Beach.
Another Pensacola course I had trouble getting info online was the AC Read Golf Course on the grounds of the Naval Air Station. Couldn't find their rates nor a lot of reviews. I did stop in the pro shop and did a drive by it on our way to the National Naval Air Museum. While the course is on the naval base, it is open to the public. The rates are attractive, although the facility appears to be showing its age and may not be as well maintained as the semi-private courses like Perdido Bay. It is a wooded course and looks quite mature. There are no residences surrounding the course – only woods. The fairways weren't quite as green as the other courses I visited. From what I could see the layout was fairly flat with not a lot of elevation change so it could be a good course to walk. They offer 27 holes on their championship course and one of the nine borders the lagoon and looks like it could be quite scenic. There is also an 18 hole executive course that would be ideal for walking. During our drive-by and visit to the pro shop, it did not look overly busy so there shouldn't be a problem getting a tee time. You'll need to call for rates and times because the website is very sparse and dated. PS. You'll also need photo id's, driver's license, and proof of vehicle insurance to get admission to the base and have to register at the Naval Base Gate office.
Pensacola offers several good and affordable public golf course that offer a variety of experiences. If you are staying on the Gulf (versus Pensacola Bay) in Pensacola Beach as we were, the only disadvantage is drive-time. From the Fort Pickens Campground & RV park on Santa Rosa Island, the closest course was Tiger Point Golf Club at 16 miles.
Pensacola Golf Course Links:
See our Directory of Other Pensacola Visitor Attractions Here