Touring the Madison, Wisconsin RV & Camping Trailer Show
Pods, Tear Drop and Ultra Lite Campers were popular items at the Madison RV Show. (For more on these new trends in travel trailers, scroll down for photos, descriptions, and info links lower down this page)
Held at Madison's Alliance Center, the Madison RV Show features hundreds of trailers and fifth wheel "homes", many of them more suitable for parking at a campground for several months than weekend traveling or traveling around the country. Jo and I had hoped to see some motor homes but there were only a handful in attendance.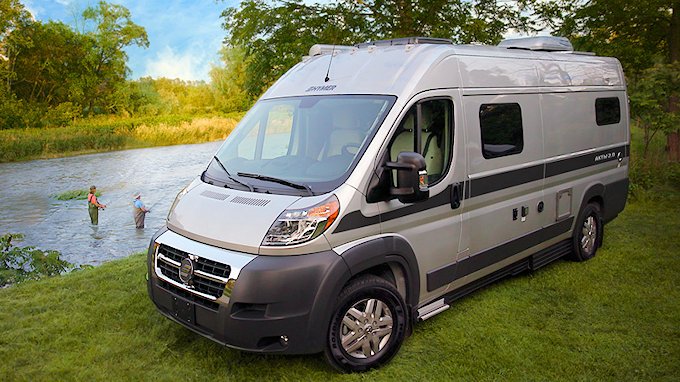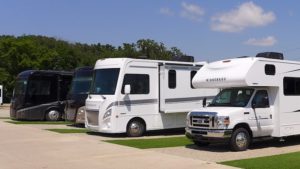 Best RV Shows for 2022 Winter-Spring (go here)
More RV Show & Review links near bottom of the page
RVing & Outdoor Lounging
We are seeing more and more of these fancy outdoor kitchens as a popular feature in the larger travel trailers and fifth wheel homes. Another accessory is an outside plug-in and a mount for a flat screen TV and a set of outdoor entertainment center speakers. All these features seem oriented to the camper who spends as much lounging outside of their rig as they do inside. Keeping with this theme, another relatively new feature we noticed were units that were equipped with an the additional outside entrance to the RV that led directly to the bathroom. So when you are outside and need to go "potty" you can go directly there instead having to walk through the main living room of the RV. Would also be handy for the younger generation who may be tenting or in a pop-up camper next to the grandparents bigger RV.
Pod Trailers and Tear-Drop Campers
A popular style travel trailer that seems to get a lot of attention are these retro tear-drop shaped models that are aero-dynamic and light enough (under 2000 pounds) to be trailered by a smaller, more fuel efficient vehicle (i.e. SUV not needed). These units are a nice graduation from tent camping because they can fit on smaller camp sites, are easy to tow, easy to store at home, and yet offer a clear improvement in comfort and protection from the weather over tent camping. Two of the more popular of this type of unit are the T@b (aka Tab) and the R-Pod. They come in a variety of floor plans, including slide-outs, expandablesome of which include the outdoor kitchen to give more room inside for other amenities.
---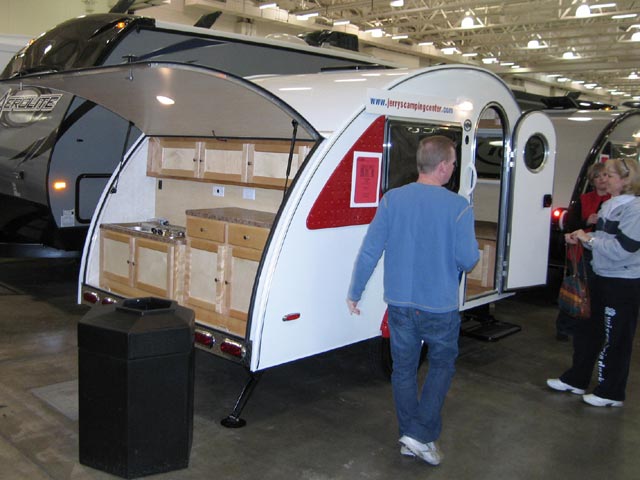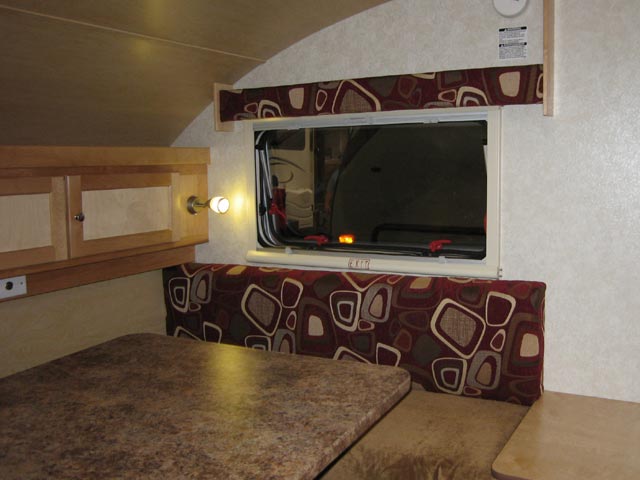 ---

See our article on "Extreme Travel Trailers" – Camping Trailers for Back Country Camping
---
Pictures & Links to some Ultra-Light & Pod Travel Trailers
Forest River's Pod Campers offer the most conveniences but are heavier than most in this class, yet they still would be classified as light.
forestriverinc.com/rpod/
The T@b also offers a number of extra features or conveniences but in a compact package.
The So-Cal Teardrop trailers are light and compact but offer a few ingenious comfort and convenience options.
The Little Guy is the T@b's little brother for the ultra-lite travler whose primary interests are a good warm dry bed ready to go in minutes if not seconds.
Camp-Inn offers 3 pod models offering size and convenience choices.
ProLite offers eleven models of teardrop campers from ultra-lite, minimalist to well equipped but still very compact travel trailers.
---
Best Full Featured Compact Travel Trailers
See the Airstream Bambi and Top Picks of Compact Towable RVs – Small full-featured travel trailers suitable for extended stays and maybe even full-time RVing.
---
Nearby Madison 2022 RV Show Links
Chicago RV & Camping Show – See our Review and Info on attending
---
Calendar of Best RV Shows for 2022
See our RV Resources Page for links to helpful resources on finding campgrounds and RV parks.
Happy Traveling,
Roscoe