Rock On with Lake Superior Agates
Jo and I had a great time attending the 6th annual Lake Superior Agate Show and Festival that was held on September 14 -15, 2013 at Muskallonge Lake State Park on the shores of Lake Superior in the little community of Deer Park in the eastern Michigan Upper Peninsula.
The show is a gathering of amateur rock collectors, wanna-be agate collectors, agate hunting veterans, and agate collection professionals exhibiting their collections as well as offering specimens for sale. The show also featured a number of presentations (see the schedule of activities) and demonstrations of agate cutting and polishing. The video at the bottom of the page will give you a peak at what the Rock On festival is like.
I caught the agate hunting and Lake Superior rock picking bug a few years ago. I picked a lot of pretty rocks before I finally found an agate. I think agate hunting is something like Muskie Fishing. The old saw on fishing for Muskies is that it takes on average 10,000 casts to catch a legal Muskie. I was beginning to think I'd have to pick up and inspect 10,000 beach rocks before one of them would turn out to be an agate! But I bet I picked up at least a 1000 before I finally scored. And since that time my odds have only gotten a little better. But the future looks bright because at the Rock On festival Jo and I attended some presentations by Karen Brzys (curator of the Gitche Gumme Agate Museum) and Jennifer Lasslett, a veteran collector and agate and gem jewelry artisan.
One of the things we learned is we have to get over the "pretty rock" syndrome. You see a good Lake Superior agate beach is covered with an amazing variety of rocks and minerals, many of them quite distinct and attractive. All these pretty rocks can be quite distracting and hard to resist picking them up for a closer look. But the successful agate hunter must focus on the task, looking past all these pretty rocks and scan the beach for the specific kinds of rocks that could contain or be an agate. For example in many cases an agate has its beauty hidden behind a rather ugly and plain looking husk. Only when the husk is removed or the agate cut in half is the beauty revealed. Other times the clean agate face is buried in the sand and the husk backside is all you see – unless you pick up or turn over the rock. These tips and many more are included in Karen's most recent book – Agates, inside and out. Karen's book and a few other Agate and Beach Rock books we've found helpful are reviewed on our Rock Hound pages in SuperiorTrails.com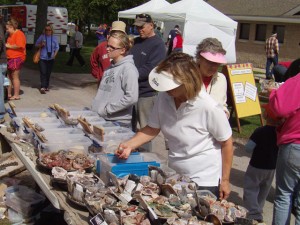 In addition to attending the Rock On show, Jo and I logged several hours agate hunting and rock picking on the Muskallonge park beach. It is no coincidence that the Rock On festival is held at this park. It is one of the premier rock and agate beaches around Lake Superior. Armed with her new found wisdom and renewed determination Jo managed to find four agates in a day and half. Earlier in the week she had found an agate at Black River Harbor's beach so her total for three days of hunting was five agates. I still suffered from the pretty rock syndrome and wasn't as lucky. Plus my eyes and color vision aren't as sharp as Jo's so I'm handicapped. In the past, she easily tired of rock picking, spending about half the time I did walking the beaches. But now, after being successful, she's a lean, mean agate hunting machine! See the picture of her finds – they will look much more impressive once we get them polished.
You can see some more pictures of Lake Superior Agates on our SuperiorTrails website plus I've got a page of pictures and descriptions of Agate imposters – rocks that some might think are agates but they are just agate wanna-bees. We also have more pictures and a video from the Agate Festival.
Maybe we'll see you there next year? (Update: The 2014 Agate Festival was held same place and same weekend – Sept 13-14. Had a good time but we weren't as lucky as last year on finding agates on the beach). Click on the above link and go to the bottom of the page for more info on the 2014 event.
Roscoe roscoetrails@gmail.com