Restaurants & Pubs Hot Springs National Park
Some of Hot Springs most favorite restaurants are located a good distance from the National Park Bathhouse Row and downtown Hot Springs. But when we visit we are there for the camping, hiking, and history that the National Park offers so when we eat out, it is downtown near the park headquarters.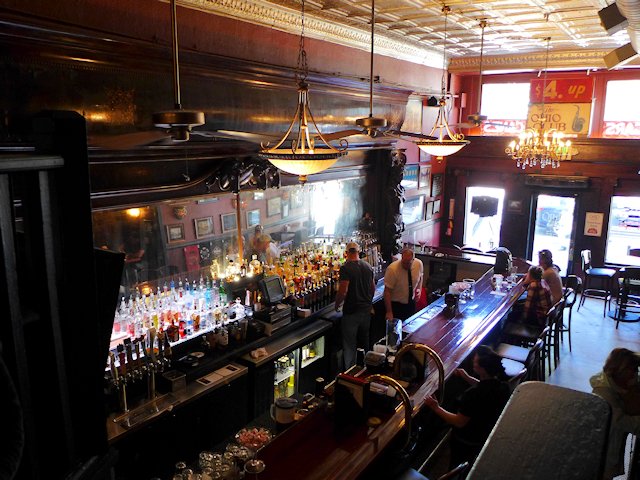 Located across the street from Bathhouse Row, the historic Ohio Club has been doing business since it opened in 1905 as a Casino and Saloon, with brief periods of closure due to fires, floods, and illegal gambling. During prohibition it disguised itself as the Ohio Cigar Store and continued to offer gambling and drinking services to those who knew the password. Over its history, the Ohio Club has served many notable figures in entertainment as well as infamous gangsters who were drawn to its casino operations and clandestine betting parlors.
Both in its exterior and inside, the Club maintains the character of 100 years ago. Its opulent back bar goes back even further than its 1905 beginning, estimated to have been made around 1880. The story is the bar was originally in a Cincinnati tavern and was purchased by the Club's original owner and transported to Hot Springs where it became the back bar of the Ohio Club. The bar and the interior furnishings give the Club an A+ for atmosphere.
The service from the wait staff was excellent and very attentive. Grade A. My water glass was refilled without having to ask, one indicator I use to gauge if the wait staff is on the ball. We had sandwiches and beers. Jo ordered her signature Mushroom & Swiss Cheese burger, topped with lettuce and tomato. I had the Portobello Mushroom Veggie Burger. Both came with a helping of thick fries and a dill spear. Adequate size portions and served on a tasty bun. Loved the fries. We rated the food a B+, decent quality for an under $10 burger basket. Our tap beers were a Porter and a Milk Chocolate Stout. OK, but I felt a bit pricey for tap beers – $6 and $7.
A fun place to stop in, soak up some neat atmosphere, and have a sandwich and beer. And if you like live music, they have it seven nights a week.

---
Other Good Restaurants in downtown Hot Springs near Bathhouse Row
Another Hot Springs Restaurant we like a lot is Steinhaus Keller. They are on Central Avenue a few blocks south of the bathhouses. They have a decent selection of brews, great German cuisine, and a unique Biergarden. We've dined there a couple of times and always came away very happy with the food and the service. See our earlier Restaurant Review of Steinhaus Keller here.
Another unique pub is the Superior Bathhouse Brewery, located in the actual National Park, along Bath House Row and across the street from the Ohio Club. Their beer is brewed with the same 144 degree thermal spring water that serves the other bath houses and the water fountains that are along Bathhouse Row. The Brewery also offers a selection of pub food to accompany your craft brewed beer. Two years ago, we stopped in there shortly after the Brewery first opened and the food service was limited. From reading reviews in Zomato, the menu has expanded dramatically and is getting some very favorable comments. So next time we are Hot Springs, we must eat there (as well as sample the brews).
Rolando's Restaurante is another downtown restaurant that gets good reviews for its atmosphere and food. If you like Southwestern, Latin and Central American dishes this is the place you should try.
If you are Irish or like Irish dishes, try the Copper Penny Pub. We've only had a few brews there during the very crowded post-St. Patty's Day Parade Celebration (see our video). In the reviews, some have liked the Fish & Chips and other Irish fare, but others not so enthused. So we've got to try them ourselves on the next visit.
Other Hot Springs Visitor Links: