Winona to Red Wing,
Wisconsin Great River Road
Previous River Road Page: McGregor, Iowa to La Crosse, Wisconsin
Driving both sides (Minnesota & Wisconsin) of the Mississippi River between Winona and Red Wing is one of the most popular fall color drives along the Mississippi. See our map near the bottom of the page for more details.
Visiting Winona, Minnesota
Winona, Minnesota is almost an island city lying between the Mississippi River on the north and on its southern edge the lakes of Bollers Lake and Lake Winona and their connecting creeks. It is home to 3 universities and students make up about a third of the population. Our favorite Winona visitor attractions are Lake Park and its hiking/biking trail around Lake Winona, the Garvin Heights Scenic Overlook, and Levee Park along the banks of the Mississippi River, where sometimes you'll see the Mississippi Queen River Boat docked loading or unloading passengers. The five day Steamboat Days festival is probably their most popular event. A few years ago we caught the tail end of the festival and the Hydroplane Race on Lake Winona. We've visited but never stayed at the Prairie Island Campground but it looks like a decent facility and the rates are reasonable. If you are visiting Winona be sure to stop in the visitor center located on the shores of Lake Winona near the intersection of Hwys 14 & 61 and Huff Street. Winona Visitor Website
Traveling North on the Wisconsin Great River Road
Cross the bridge over the Mississippi to re-join the Wisconsin Great River Road (hwy 35) heading north towards Fountain City, a river town that hugs the bluff and is about two streets wide and one mile long. Perhaps best known for its Monarch Public House pub and restaurant and the Rock in the House tourist attraction.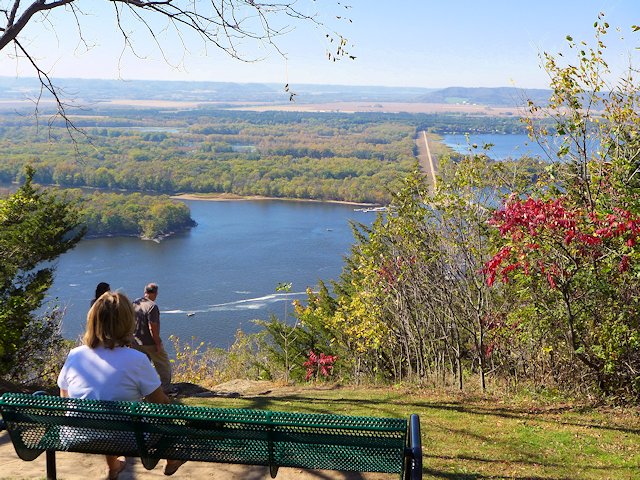 Visiting Alma, Wisconsin
Next you'll pass through Cochrane on your way to Alma, Wisconsin, a charming village full of carefully restored historic buildings (many on the national register), artisan shops, and interesting places to shop, dine and drink. Lock & Dam #4, with its unique railroad bridge, is a popular visitor attraction as is Buena Vista Park's scenic overlook 600 feet above the village. Ambitious hikers can take the trail from town but less enthusiastic folks (most people) will take the switchback road Cty E up the side of the bluff to the park road.
The next town is Nelson, Wisconsin. smaller than Alma, but also home to a number of quaint artisan and gift shops. But their most popular attraction is the Nelson Creamery & Cheese Factory. Known for its cheese, gourmet soups & sandwiches, and its ice cream, the fall Sunday we drove through town there must have been a 100 cars and motorcycles parked near the factory and at least fifty people sitting outside on the sidewalk eating their ice cream cones.
A few more miles down the road is the village of Pepin, another quaint village of shops, pubs and cafes, a winery, and home to the Laura Ingalls Wilder Museum (the famed children's author was born in Pepin). About 10 more miles down the road you come to Stockholm, Wisconsin (town motto: small village, big arts) another tiny community populated by artists and artisans, unique shops, and great places to enjoy food and drink. It is a super cool place, one of my favorites along the River Road. They also have a neat, little riverside tent and RV campground that offers 30 amp electrical service (first come, first served).
---
---
Red Wing, Minnesota
Leaving Stockholm, you travel about 18 miles to the intersection with Hwy 63 (near Hager City) which then crosses the river into Red Wing, Minnesota, a town of 16,000 people loaded with interesting tourist attractions. Like some of the tiny villages like Alma, Red Wing is full of historic buildings that have been restored and re-purposed into artisan shops, restaurants, and retail establishments. Home to the famous Red Wing Shoes, their downtown store has a huge bargain basement of selections as well as a massive collection of all sorts of Red Wing apparel. Another venerable Red Wing enterprise worth visiting, both for window shopping and some good deals, is the Red Wing Pottery and Red Wing Stoneware Company. Also of interest is the Red Wing Pottery Museum.
River City Days is Red Wing's most popular festival, usually held the first weekend in August. Another one is their Christmas Parade and Thanksgiving Weekend Holiday Stroll Festival. We had a great time a few years ago attending this holiday festival, staying at the historic St. James Hotel and had a great Thanksgiving Feast in their ballroom.
See our complete Upper Mississippi River Road Map here.
More Great River Road Drives
Next: Part 5, Going south on the Minnesota Great River Road. 
This makes a great scenic drive loop, especially during fall color time, exploring both sides of the river along the Wisconsin and Minnesota River Roads.
Mississippi River Fall Color Drive Winona to Wabasha
This is a shorter version of a River Road Scenic Drive loop traveling on both sides of the Mississippi between Winona and Wabasha.