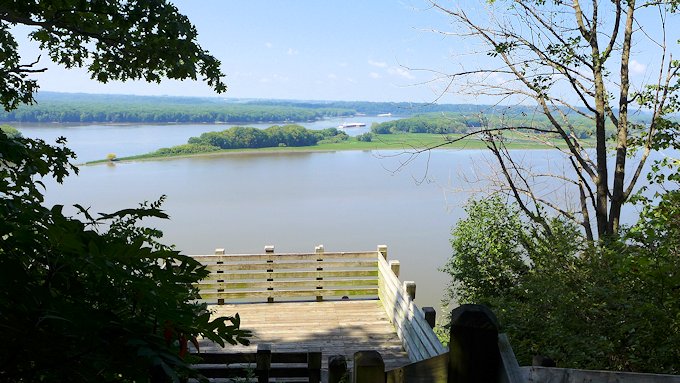 The Upper Mississippi Great River Road
Savannah, Illinois to Dubuque, Iowa
River Road Attractions in this article: Mississippi Palisades State Park, Galena, IL, Potosi Brewery, Grant River Corps Campground, Dubuque Iowa, Balltown Iowa, Cassville WI, Pikes Peak State Park.
About 12 miles further up the road from Thomson, Illinois, just north of the town of Savanna, Illinois is Mississippi Palisades State Park – Learn more here. Here is the beginning of the "Driftless Area" that will encompass the Mississippi River Valley from this point north to Hastings, Minnesota. Palisades State Park is 2500 acres with some nice hiking trails and several attractive scenic overlooks of the river from various points along the high bluffs that are part of the park's landscape. There are also a number of interesting rock formations among the bluffs, including some used by rock climbing enthusiasts. There are 241 campsites, including 110 with electric hookups. But even if you aren't planning on doing any camping, Palisades is a great stop for a picnic and the scenic lookouts are outstanding. We've camped and hiked Palisades State Park – see our review on a couple of occasions and especially like it during fall color time for its mature hardwood forest and outstanding scenic lookouts.
North of Palisades Park, the River Road begins to turn away from the river as the road climbs up to the ridge of high ground several hundred feet above the river bed. Where highway 84 joins highway 20, there is an abandoned observation tower that offered a terrific view of the surrounding countryside. While the tower is now closed for safety reasons, there remains a picnic area there and still some impressive views from the high ground surrounding the tower.
Visiting Galena, Illinois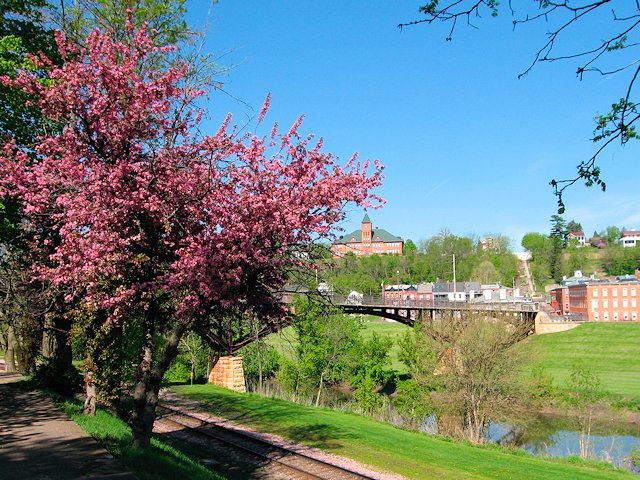 Highway 20 now becomes the river road and rides the ridge all the way to Galena, Illinois a town loaded with historic buildings, artisan and craft shops, interesting restaurants, and other attractions, including the former home of President Ulysses S. Grant. At one time Galena was a major Mississippi River port community, even though technically it is on the Galena River not the Mississippi. But back in the day, the Galena River was a more significant tributary than it is now and hosted numerous paddle wheel pleasure craft and commercial shipping. The downtown is still protected by a massive dike and gate system as the town was victim to regular floods of the Galena River.
Highway 20 actually skirts the west side of Galena and avoids the historical district. It is an exceptional town so we encourage River Road travelers to spend some time downtown getting to know Galena. We've visited the town on several occasions and provide several pages of interesting things to see and do in Galena here.
---
See Fall Color at Effigy Mounds National Monument Park
---
Visiting Dubuque, Iowa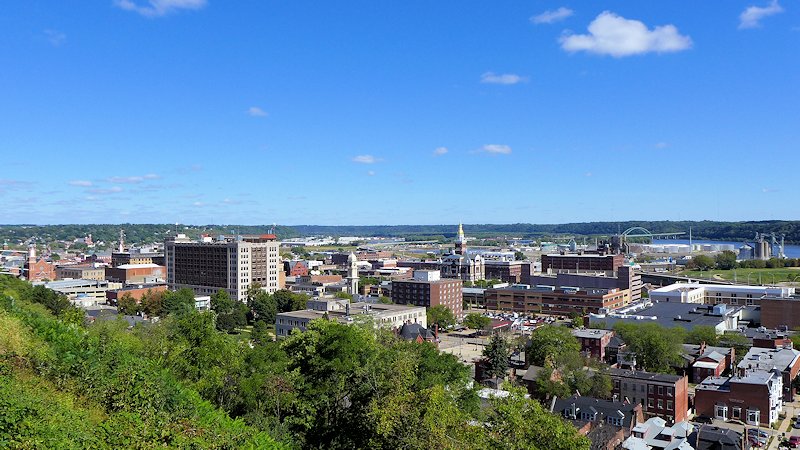 As you continue on Highway 20 through Galena you'll arrive in East Dubuque, Illinois and if you stay on Highway 20 cross the bridge into Dubuque, Iowa, another historic Mississippi River port town rich in history and in modern day attractions. We love their Riverwalk and the Bluff Street artisan neighborhood. Dubuque is also home to the Mississippi River Museum and Aquarium, a place we find ourselves visiting frequently. Undergoing an impressive renaissance with new industries and entertainment venues and a re-vitalized waterfront district, while doing a good preserving ties with its historic past. We visit Dubuque regularly and have profiled some Dubuque's Visitor Attractions here. We've also done an article on Dubuque's Public Golf Courses.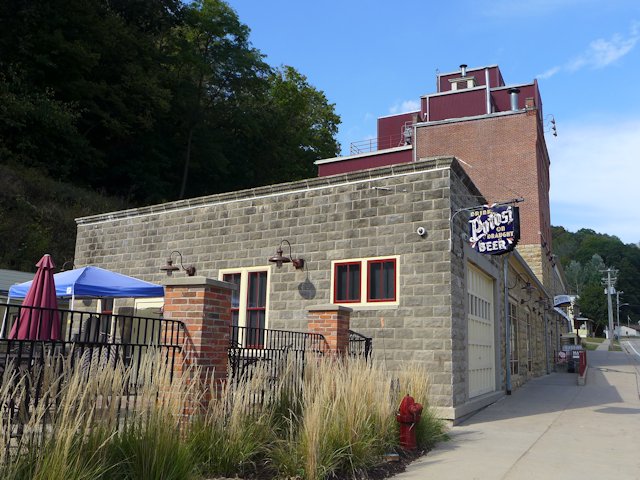 ---
What are the Best Campsites Dubuque, Iowa to Trempealeau, Wisconsin
---
---
Heading North on the Great River Road
North of Dubuque it is difficult to choose whether one takes the Wisconsin Great River Road or the Iowa Great River Road.
Wisconsin River Road Scenic Byway
On the Wisconsin side, you have the restored Potosi Brewery as a significant attraction and the nearby excellent Grant River Corps of Engineers Park for RV travelers. The park offers 63 RV sites with electric hookups, washrooms/showers, playgrounds, a scenic parkway along the main branch of the river, and other amenities. Another attraction on the Wisconsin side is in Cassville, Wisconsin: Nelson Dewey State Park and its companion Stonefield Historic Site. Another Cassville attraction is the Cassville Ferry which crosses the Mississippi and docks on the Iowa side at Millville and the Turkey River Boat Landing, giving you the option to continue your journey north on the Iowa side of the Great River Road.
Iowa River Road Scenic Byway
Leaving Dubuque on the Iowa side. Go north from Dubuque along the Iowa River Road (Highway 52) and then take County Road CY9 (Sherill and Balltown Roads) to Balltown Iowa with its scenic lookouts and historic Breitbach Tavern, the oldest continually operating tavern in the state of Iowa
Leaving Balltown, you descend along CY9 to the riverside community of North Buena Vista. Continuing along CY9 (Iowa Great River Road) you pass the Turkey River Mounds State Preserve, which also hosts the boat landing for the Cassville Ferry. Shortly after this point the Great River Road re-joins Highway 52 and heads towards Guttenberg Iowa whose attractions include an interesting DNR Mississippi River Fish Aquarium and Hatchery, the Lockmaster House Heritage Museum, a 2 mile long riverwalk and Ingleside park.
Just north of Guttenberg, if you want to travel near the river, take County Road X56 which ends at McGregor, Iowa. You'll pass Pikes Peak State Park just before arriving in McGregor. There are some fantastic scenic lookouts at this park and a nice little hiking trail that takes you by a waterfall. The park has 77 campsites, 60 with electric service, a modern bathroom/shower facility, dump station, and a park store and pavilion. Half the sites are held out for first come, first served and the other half can be reserved in advance.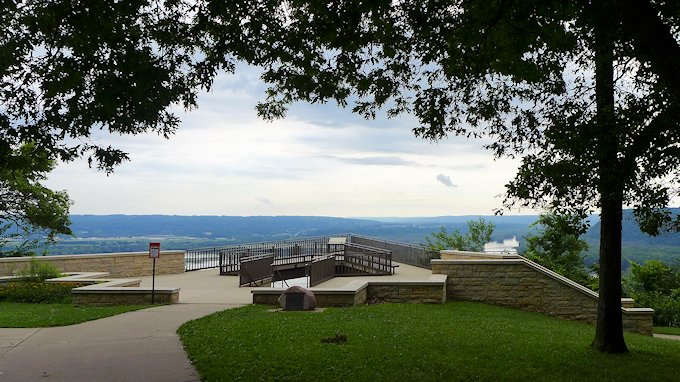 Which to Drive north of Dubuque? Iowa or Wisconsin side
For this stretch of the river road from the Wisconsin State Line to Prairie du Chien, Wisconsin and sister city across the river McGregor-Marquette, Iowa, we think the Iowa river road is more scenic, providing more views of the river valley than the Wisconsin route. But further north of Prairie du Chien, we think the Wisconsin road is more scenic.
Going North on the Great River Road
More Great River Road Travel Links
---
See our complete Upper Mississippi River Road Map here.