Back-Country & Off-the-Grid Camping Trailers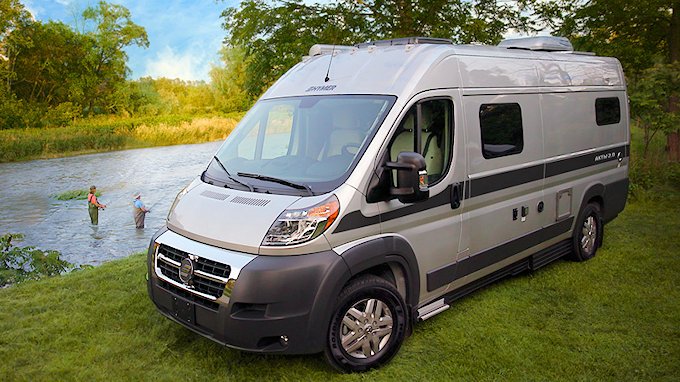 A recent trend in travel trailers is the ultra-mod, compact, high-tech camper aimed at a younger, active life style demographic. These are campers who like off-the-beaten-path remote camping, go mountain biking or kayaking, like to pack light and leave a small foot print, but do like certain creature comforts and have support for their mobile technology. (manufacturer website links are at the bottom of this page)
---
Airstream BaseCamp
Even the luxury travel trailer icon Airstream is going after this Extreme Demographic. The BaseCamp comes with several standard luxuries like 2 way refrigerator, sink, cooktop, bath/shower, pre-wired for solar, LED lighting, USB Ports, blue-tooth speakers, hot water and cabin heating systems, and many more. While almost every amenity is standard equipment, options include solar panels plus an AGM battery upgrade and two different tent-ad-ons that can expand your living space an additional 120 square feet.
What I particularly love about the BaseCamp is the wrap-around windows allowing lots of light in the interior and panoramic views of outside. It makes the small space seem much bigger. I like the kitchen area with more cooking and meal prep counter space than units 2 or 3 times its size. Airstream's engineering and attention-to-detail in its design allows its small footprint to contain lots of quality comfort and convenience features. Everywhere you look in the unit you find ingenious touches.
| | |
| --- | --- |
| Lots of counter space for a compact camper and gobs of natural light. | One of the 2 styles of optional vestibule tents attaches here. |
What particularly "makes" the BaseCamp for the extreme camper is its rear hatch door and open center aisle more than 10 feet long that will allow indoor storage of kayaks, bikes and other toys. Larger wheels & tires plus protective underbody and skirts allow it to be towed over gravel and rougher roads. Its' light weight, compact aerodynamic design, and balance make it easily towable by mid-size SUVs.
Retail Cost is $36K to 40K fully loaded
---
---
Cricket Camper Travel Trailer
Rugged, tank-like in appearance. The Cricket is a better engineered option to the traditional pop-up camper. Its kitchen has a large counter with covered sink and 6 large cubbies for prepping, cooking, and storage and supported by a 15 gallon plumbing system with heated hot water and a gray water storage tank. There is an outdoor shower with hot and cold running water, but no indoor bathroom however. But most other amenities are there either as standard or optional. It is wired for both 110 and 12 volt systems, has LED lighting, and is pre-wired for the solar panel option. You can get optional furnace, air-conditioning, and a 12 volt refrigerator.
| | |
| --- | --- |
| Kitchen area. The 12 volt refrigerator is in the lower left hand corner of the picture. | |
Rugged exterior, 15 inch all-terrain tires with 12″ of ground clearance allow you to travel down gravel and single track woods roads. "The Cricket camper has sleeping room for two adults and up to two children, along with Taxa's NASA inspired design and integrated plumbing and electrical systems, you're good to go days off-the-grid with this camper." Weighs less than 1500 lbs so practically any 4 cylinder or above vehicle could tow it.
It has a roof rack system for hauling bikes, kayaks or extra gear. It also has a large rear hatch that allows you to transport bikes inside. Awning and privacy cabana.
$27,868 USD – MSRP
---
T@b Outback
While most of the Tab Travel Trailers have the neat pop-top outdoor kitchen that opens up in the back, extreme campers who might encounter extreme weather conditions, want their kitchen and dining inside the RV where it is more protected from the elements. The Outback and its new cousin the Tab 400 provide that luxury plus an indoor bathroom/shower combination. These models include just about all the other amenities found in larger camper trailers: TV, air conditioner, furnace, stove, refrigerator, LED lighting, dinette area separate from the sleeping bed (tab 400) and other features. All of this still in a compact, easily towable package under 3000 lbs.
| | |
| --- | --- |
| Tab Outback has a dinette, bed, living room combination. Tab 400 has separate dinette area. | Outback kitchen. Entrance to the bath/shower in background. Lots of features in a small space. |
The Outback package offers a Yakima Roof Rack, heavy duty off-road style tires, diamond plated stone guards, cargo netting, and other durability options.
Approximate Price: $28,000
---
Sylan Sport Go Camper
An ingenious package that serves as a rugged towable carrier for bikes, kayaks, canoes, or surf boards and also is a novel soft-sided compact pop-up tent camper with some unique features.
The tent is stored in the pop-top and when the top is raised the tent drops down for easy assembly. The entire tent system can be set up by one person in less than 15 minutes. Inside there is a fold down table that can accommodate up to 4 people for dining and can also be converted to allow sleeping space for up to 4 adults.
Lightweight, weighing in at only 840 lbs the Go Camper is easily towed by smaller cars or SUVs (like a Subaru) but can carry a huge amount of cargo or personal sport vehicles.
Also works as a utility trailer. With the pop-up tent top completely removed, the Go Camper converts into a utility trailer that will allow hauling of large items like a refrigerator , laundry appliances or a riding mower. For day trip adventures it can carry several kayaks or bikes. The deck will handle up to 800 lbs and the upper rack will handle an additional 160 lbs.
| | |
| --- | --- |
| The dining table in a different configuration is the platform for a full width bed. | Folded up in travel position with extra space for lots of gear or bikes. |
The Go Camper is a quality, well-engineered piece of equipment designed for years of use and to stand up to transport in back-woods roads. Watching the video on setting up the unit you'll see how ingenious is the engineering.
Made in America in Brevard, North Carolina.
MSRP $9,995
---
Links:
Setting up the Go Camper