Duluth, Minnesota-Superior, Wisconsin Fall Events
The big event in the Duluth-Superior Twin Ports area at the end of August is the  Lake Superior Dragonboat Race, August 24 – 25th. The race is held in a protected bay on the south side of Barkers Island. The island is the site of the festival part of the race. Yes, more music, entertainment, food and beverages. We've been to the race two times and it is a fun weekend. You can see our Dragonboat article plus photos and videos from last year's Superior Dragonboat Race here.  The final weekend in August, on the 31st you can catch the Great Northern Classic Rodeo in Superior.
September
Car enthusiasts will have two events vying for their attention the first weekend in September. In Duluth there is the KIA of Duluth Drag Race and Car Show September 8 -9th. A cool feature of the drag race is that it is held on a Duluth city street closed for the event and will not be a timed event but a one on one dual with a simple flag waving start. The idea is to simulate the informal drag races of years ago in the age of muscle cars and hot rods. Then across the bridge in Superior the popular Amsoil Northern Nationals stock car races close out the season at Amsoil Speedway Sept 7 -8th.
The following weekend, Sept 14 – 16th is Duluth's Hawk Ridge Weekend Festival. The weekend features exhibits and raptor demonstrations at the Hawk Ridge observatory station. See photos and an article in SuperiorTrails.com from an earlier visit to Hawk Ridge Weekend. Then on September 21 – 22 Duluth celebrates its Oktoberfest featuring a live Polka band, Oktoberfest Bier, German Food, and fun games and events like the Hammerschlagen contest.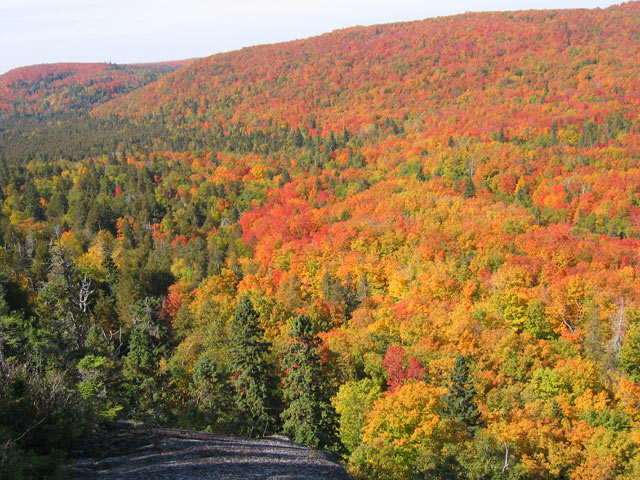 Go to our SuperiorTrails.com website
Later in the month and the first week in October you can enjoy a Scenic North Shore Fall Color Drive – from Duluth to Tofte. Or go further for fall color from Lutsen to Grand Marais. You might be interested in reading about last year's Scenic Pathways Fall Color – North Shore Seven Peaks hiking vacation in these pages.
Happy Traveling.
Roscoe