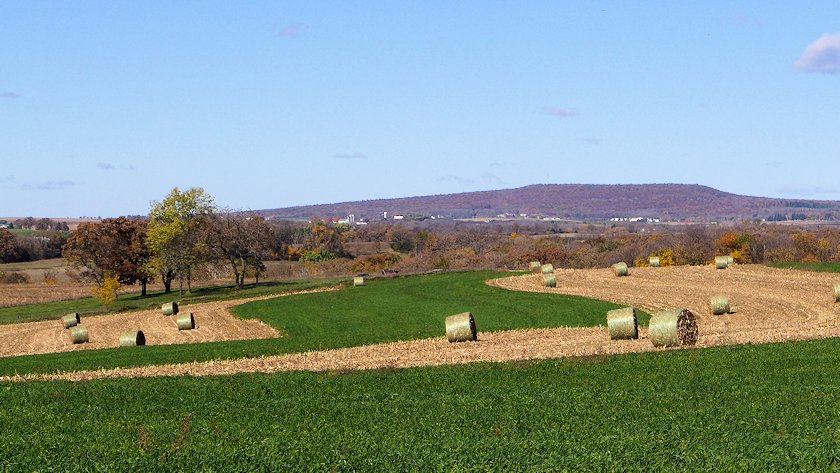 Cheese Country Scenic Drive – Monroe to New Glarus, Wisconsin
See Scenic Drive, Part 1 Mineral Point, Cuba City, to Shullsburg, Wisconsin
Part 1 of our Scenic Drive ended in little Gratiot, Wisconsin. Leaving Gratiot on Highway 11 heading east towards Monroe we pass through the Pecatonica River valley and the villages of South Wayne and Browntown to the informal capital of Cheese Country – Monroe, Wisconsin.
Visiting Monroe, Wisconsin
In Monroe, our first stop was Alp & Dell, the factory cheese store of the Emmi Roth USA Cheese factory and warehouse. Emmi Roth is an international cheese producer; the Monroe facility is headquarters for its US subsidiary. Alp & Dell had by far the most extensive array of cheese products among the Cheese Country outlets we have visited so far; I'd call it a super market of cheese. Because Emmi-Roth is an international dairy producer, among the locally produced cheeses are also a number of selections from Switzerland and Europe. Whatever exists in the world of cheese you ought to be able to find at Alp & Dell. Like the other cheese shops we've visited, sausages, chocolates, wines, gift boxes and other local wares round out the selections.
Alp & Dell is a must stop on any visit to Monroe. In addition, any visitor ought not to miss the town square with its historic Green County courthouse as its centerpiece. While like most towns, many retail outlets have moved to the outskirts of town. However, Monroe has retained the viability of its downtown town square as a retail and entertainment center. Another one our favorite Monroe attractions is lunch at Baumgarters Tavern and Cheese Store, located on Monroe's town square. Here's a few photos from a fall visit to Baumgartner's where we had some local brews and bratwurst sandwiches.
[tribulant_slideshow gallery_id="21″]
---
Some other Monroe attractions around or near the town square include Turner Hall, Minhas Brewery (the former Huber Brewery), Chocolate Temptations, Rainbow Confectionary, as well as many other interesting shops and attractions.
See our article and more pictures on Visiting Monroe, Wisconsin.
---
---
While a little off the main route of our official Cheese Country Scenic Drive, a detour north of Monroe, on Hwy 69, to New Glarus, Wisconsin, America's Little Switzerland, is worthwhile for its Swiss history and more award-winning cheese and one of the nations premier craft breweries.
Visiting New Glarus, Wisconsin
While Monroe is steeped in Swiss Heritage, New Glarus (16 miles north via Highway 69) stakes the claim as America's Little Switzerland, founded in 1845 by approximately 100 swiss immigrants. In the lower level of the historic (1853) New Glarus Hotel, the Edelweiss Cheese Factory has its factory store offers a selection of their award-winning cheeses. Across the street at Maple Leaf Cheese and Chocolate Haus you'll find a even broader array of cheese and goodies. Within two walking blocks there are several more interesting pubs, shops, and boutiques. Like Monroe, the Swiss Heritage has been well preserved in its buildings and structures.
Learn more about New Glarus and Festivals and Events
Other Cheese Country Scenic Drives:
–Mineral Point to Shullsburg
–Fall Color Drive – Mount Horeb to Monroe
Cheese Country Travel Map & Article Directory