Scenic Cedar Key, An Unspoiled Gulf Beach Town
The Gulf Coast Scenic Highway (US Hwy 98 and State Highway 30A) we've profiled in our posts begins in Pensacola Beach and ends in Panacea, Florida where Highway 98 moves away from the coast and continues south and east down the main Florida peninsula.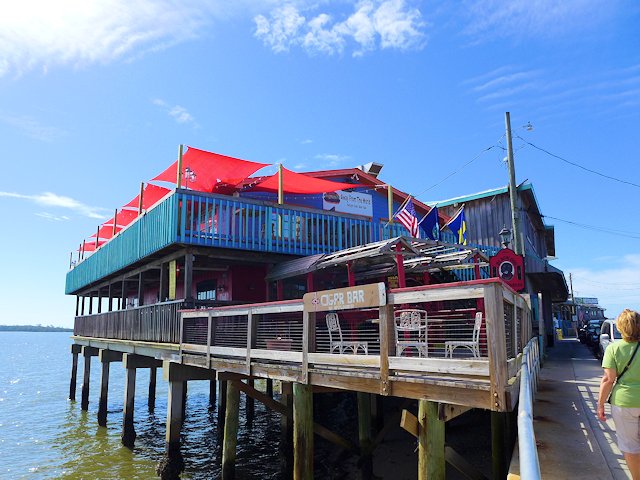 Our original intention was to connect with and explore the Big Bend Scenic Byway after Panacea, but on the recommendation of a friend, we decided to stay on Highway 98 to travel south to visit the beach community of Cedar Key and the Cedar Keys National Wildlife Refuge. While the town of Cedar Key is situated on about 6 islands, the Cedar Keys Wildlife Refuge that surrounds the town of Cedar Key has thirteen named islands, plus perhaps hundred more islands too small to have a name encircle the town. It is about 150 mile drive from Panacea and we highly recommend it.
Cedar Key Island Village
The village of Cedar Key is located on a collection of small barrier islands connected by bridges. Its main commercial industry is Clam Farming and it is Florida's largest center of commercially raised clams. It also has a very hospitable beach resort community that is more laid-back and has far less commercial glitz than you'd find in Destin or Panama City Beach. There's no high-rise resort buildings or huge apartment complexes. There are a few medium-size ocean-side condos and hotels, but a good deal of the lodging for visitors is provided in quaint cottages and mom & pop style motels.
Things to Do and See in Cedar Keys
There is a decent city swimming and sunbathing beach adjacent to the city park that has picnic tables, a playground area, a pavilion, and a bath house. There are several good restaurants and raw bars offering fresh seafood, some of which is locally caught. (See our reviews of Best Restaurants and Places to Eat in Cedar Key).
Most of the bars, restaurants, and boutiques are located along Dock Street which runs down the center of a narrow hook-shaped peninsula that juts out into the Gulf and Suwannee Sound. The buildings on the Gulf side of the street are built on stilts and actually sit out in the water.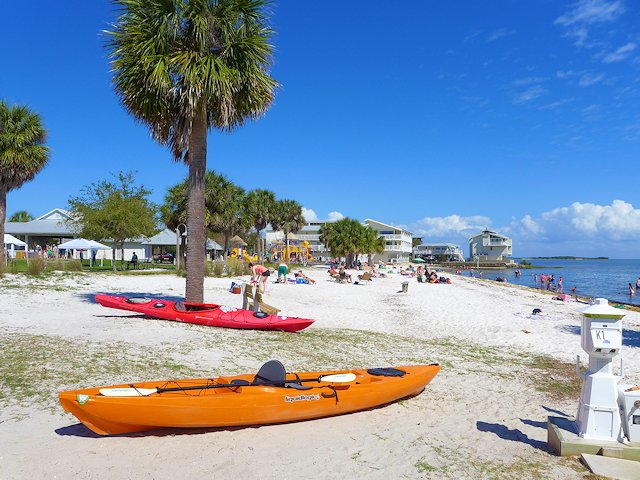 Besides sunbathing, swimming, dining and drinking other fun activities offered in Cedar Key include browsing gift shops and galleries, canoeing and kayaking among the islands and channels, sailing & parasailing, boat tours of the islands and dolphin watching, airplane rides, charter fishing, and renting a golf cart of bike to drive around town. Cedar Key is very walkable town, although many seem to like riding around town in a golf cart. In addition to browsing the shops and restaurants, you can browse the historical district near the main entertainment center. The Trestle Nature trail is built on the bed of the old railroad that used to serve the town. Over fifty species of trees and shrubs are identified.
The many islands of the Cedar Keys Wildlife Refuge provide great shelter for kayaking and canoeing and also a chance to see dolphins, birds, and other wildlife.
Cedar Keys RV Parks & Campgrounds
There are three private RV parks/campgrounds located within Cedar Key or within 5 miles of the center of town. They are a good deal more expensive than the Shell Mound County park that we prefer, but also a few miles closer to town and have a few more amenities. We drove through two of these three parks and found the sites too cramped together for our tastes. We also don't care about swimming pools, horseshoes, game room, and many of the amenities offered by private campgrounds. But some may like these features and in addition, the three RV parks are closer to town.
Our favorite Cedar Keys campground is a few miles out of town at the north end of the Keys Wildlife Refuge: Shell Mound County Park Campground (see our article. The park offers both RV and Tent Camping and the nearby nature trails provide some interesting hiking and bird-watching. There's also a boardwalk and fishing pier and a canoe/kayak landing. We camped at the County RV park and found the camp hosts very friendly and helpful. The RV sites offer water and electricity; the bath houses have running water and showers; and the campsite fees were quite reasonable. The campground is first come, first served – no reservations.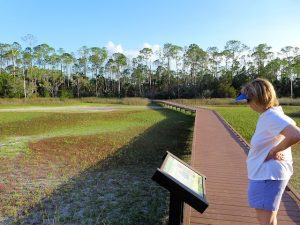 Another RV or camping option is about 30 miles away: Manatee Springs State Park. The state park offers very nice RV sites, good spacing, nice shading, 8 miles of hiking trails, kayaking, biking, and swimming/snorkeling in the spring pool. And the rates are quite a bit less than the private parks nearer to town. Another feature of Manatee State Park that attracted our interest was the fact that the Chiefland Golf Course was only about a mile from the park. We found it a nicely, maintained 18 hole golf course, with a friendly staff, and modestly priced green fees. It is also a very walkable course.
Cedar Key Chamber and Visitor Bureau
Travel Links to Articles on other nearby interesting places: