Top Ten – The Largest & Best RV Shows for 2022
This update will provide 2022 RV Show dates as they are available. When they have yet to be announced we will show 2021 dates.
Two of the biggest RV Shows for 2022 occur early in the year: the Florida RV Super Show occurring Jan 19- 23, 2022 in Tampa, Florida and the Quartzsite RV, Sports & Vacation Show occurring Jan 22 – 30th in Quartzsite, Arizona. (See show website links near bottom of the page)
The Florida show advertises itself as the "Largest RV show in the Country." It is held at the Florida State Fairgrounds, covers 26 acres and will have over 1400 RV s on display. In addition to huge variety of Recreational Vehicles (from small travel trailers to huge luxury motor coaches) to tour, there's a schedule of six different seminars held each day of the show covering topics from "RV Maintenance" to "Exploring America" to "Tips on Choosing the Right RV." For camping, the Super Rally onsite camping package sells out quickly, but dry camping still is available at the Fairgrounds. Otherwise camping is available at privately operated campgrounds in the Tampa area.
But the Quartzsite show tries to do them one better and claims they host the "World's Largest Gathering of RVers in the World." The 2020 Show attracted an estimated 150,000 RVers. As their byline suggests, Quartzsite is essentially a massive RV Rally that also hosts a large RV Show. The event is made equally famous over the years for its massive open-air flea market for rock, gem, mineral and fossil collectors.
In addition to nearby full service campgrounds, adjacent to the show grounds are dry camping on the Bureau of Land Management campground. Unlike the Florida show, Quartzsite charges no fee for admission nor for parking. Unless you have registered early, most of the full service campgrounds would be filled, so be aware that you might plan on dry camping. Most of the dry camping is on nearby Bureau of Land Management recreational land.
In 2021, covid-19 standards were in place that altered the experience for show attendees. Hopefully we will not have a similar restriction in 2022.
---
---
There's a third RV Show/Event that also claims to be America's Largest RV Show – that's the Hershey PRVCA show held at the Giant Center in Hershey, PA. They claim to offer over 1400 RVs on display from over 40 RV manufacturers, including many just introduced 2022 models. This event is held in the fall so if you missed one of the big spring shows, it would be the one to catch later in the year. For camping, there is some limited onsite overnight camping, but most camping will have to be at public and private campgrounds in the area.
If you can't make any of these three shows, there are a few other regional shows offering a decent array of RVs, among them being the 53rd Annual Chicago RV & Camping Show held in Rosemont, Illinois. They advertise 400 Rvs on display and claim to be the Midwest's Largest RV Show. We attended the Chicago RV Show (see our article here) in 2016 and again attended the 2017 Chicago RV Show. It is a big show but we need to remember to bring a compass with us. The show is in multiple rooms with odd-shaped dimensions so it is very easy to lose your sense of direction.
Links to RV Shows and RV Reviews on ScenicPathways.com
2022 Major RV Show Links – winter to fall
Here's our list of what we believe will be the larger RV shows occurring this year, plus a link to the Recreational Vehicle Industry Association calendar of all RV shows for 2021.
Recent RV Review Posts:
Top Pop-top Camper Vans
Best Class B Motorhomes
Best Compact Motorhome Reviews – 2021 Update
Class C RV Reviews
Best US-Canadian Compact MotorHomes
Best Compact Towable RV – We review the Airstream Bambi and its top competitors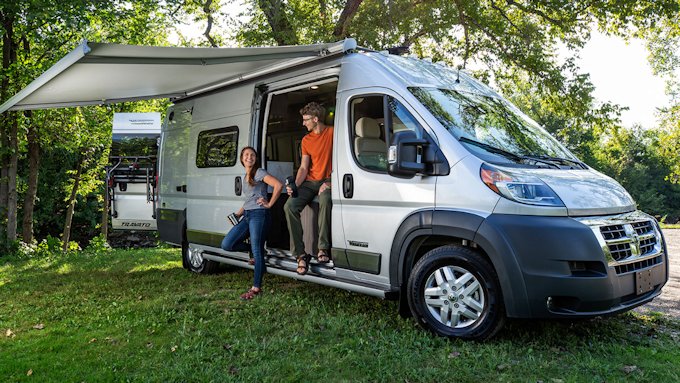 See this and other guides to
RV Traveling, Buying & Selling,
and Maintaining your RV.
Florida RV Shows Website
January – June, 2022 – All Florida RV Shows
Fall RV Shows
If you miss these spring shows, there are a few more major shows in 2021 you can catch:
Hershey PRVCA Show – America's Largest
Sept 15 – 19, 2021 (2022 dates TBA)
Hershey, PA (USA)
California RV Show – Largest on West Coast
October 2 – 11, 2020 – CANCELLED
2021 Show also cancelled.
Pomona, CA
For a calendar of other Recreational Vehicle Shows see the Go Rving Website.
---
RV Traveling & Camping
Cedar Key a hidden gem of the Gulf Coast. See our article on camping, hiking, and interesting things to see and do in and around this unique Florida Gulf Coast community.
New Article: Best Wisconsin Great River Road Campgrounds
Favorite Fall Color Drives – Wisconsin, Minnesota & Upper Peninsula