Best Class C Motorhome Reviews – USA & Canadian Models
In an earlier post (top compact European motorhomes – see article) I discussed some criteria my wife and I have should we elect to replace our aging Winnebago Rialta motorhome. Class C Motorhomes made in the USA and Canada lack many of the features we now enjoy. On the other hand several European motor home manufacturers offer a number of compact full-featured motorhomes (see our article) that we would consider as viable replacements.
In this article I review the Best USA/Canadian motorhomes that come the closest to having the features that made the Rialta so desirable to many RV buyers who want a compact but full-featured motor home.
These Rialta features are:
Low profile, aerodynamic and attractive body style
Short length (21 feet) enables parking in a conventional automobile parking space
Driving and maneuvering it is as easy as a pickup truck
Doubles as a deluxe passenger van with seating for up to 5 passengers
Large coach windows, with natural light lending an open feeling to the interior
Large rear-facing picture window with view from the driver's seat
Good gas mileage: 17 – 19 highway
Has the same coach accessories/conveniences of much bigger units.
See our 2021-22 Update of Best Compact Motorhomes

We have just posted a 2021-22 Update to our Best Compact Motorhomes – so check it out for the latest recommendations.

However if you are in market for a pre-owned compact motorhome the following reviews can be helpful as two of the units we previously liked are no longer being produced in 2022.
Here's our reviews of best small class C motorhomes under 25 feet.
Editor Note: Since the original publication of this article, some models have been discontinued. However for those looking for a Good Used Compact Motorhomes, these are some good choices
Winnebago Trend
---

At 24′ 4″ long the Trend is close to being too long for ease of parking and fitting into compact campsites. The 23L floorplan is the most viable for us. It has a defined bedroom with a 49″ wide bed that can remain made-up and a dinette seating that will handle 3 people (maybe a 4th in a pinch). It has seat belts for five people. So two positive gains over the Rialta: the daily bed making chores will be reduced and the Dodge Promaster Chassis and engine which will be easier to find good service than we now experience. Negatives are: 1) we lose some gas mileage 2) we lose our beautiful expansive rear picture window 3) less natural interior light, 4) the truncated corner bed is slightly smaller than a conventional double bed, 5) somewhat boxy appearance, and 6) the list price is above $100,000 (but you should be able to find one for under $85,000).
---
---
See our article on the Airstream Bambi and other top rated compact travel trailers
---
Thor Compass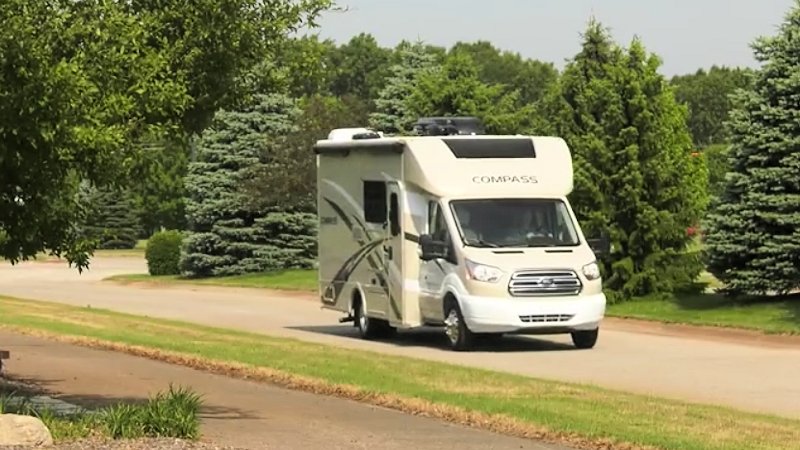 Pictured at the top of this page, at 23′ 6″ long the Thor Compass fits within our specs for maximum length. The 23TK model has a comfortable 4 person dinette and a dedicated bedroom with a 49″ wide corner bed setup similar to the Winnebago Trend. (The 23TB model gives you a flip-up queen size bed but the dining area becomes only a two person pedestal table (which I find too small) in front of a couch.) It has a large European style "garage" external storage compartment which I like. The chassis and engine are Ford Transit which should give even better service options than the Dodge Promaster. The Ford is also a diesel which should offer a bit more miles per gallon than the Dodge gas engine. Negative: List price is above 100,000 but you may be able to find one for around $75,000.
For 2020-22 The Compass has been upgraded (see article) with many nice features.
GulfStream BT Cruiser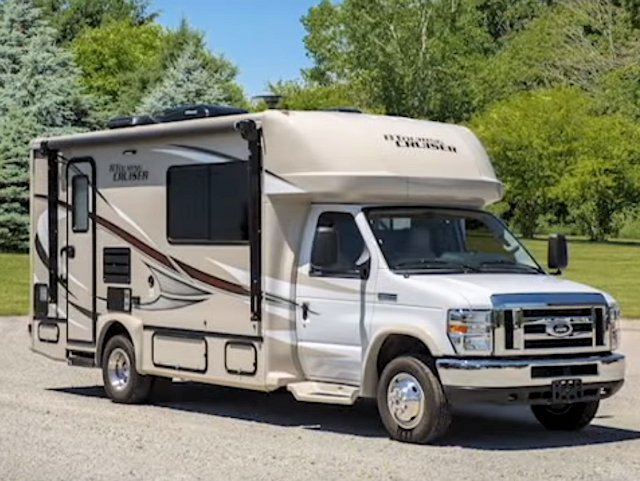 At 24′ 5″ long the model 5245 pushes our limit on vehicle length. Likewise at 10′ 6″ high it is on upper end. But it has a separate queen bed and a four person dinette, and overall an attractive floor plan and amenities. Its Ford E350 Engine and Chassis will be easy to service. It doesn't have the more aerodynamic and newer Ford Trend chassis and I'd expect less MPG than the Trend chassis but the E350 is well established and easy to service. It's retail price is under $100,000 and I've seen advertised prices under $80,000. A decent value.
Leisure Travel Wonder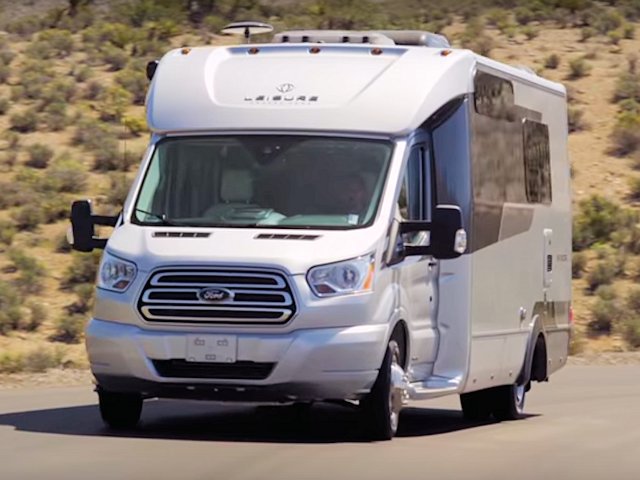 The Leisure Travel Wonder has a low profile, sleek appearance. It is just under 10 feet high but is 24′ 9″ long, barely under our 25 feet maximum. It is very spacious with lots of storage inside and out. The kitchen is well laid out with good counter space and the bath has a separate roomy shower. Roomy exterior storage space will easily hold our two golf bags. The murphy bed model is a unique feature. It allows you to keep a made up bed, yet not have the bed taking up all that useable floor space during the day. A skylight and larger windows give it an airy feeling inside. Besides it being a little on the long side, the only downside feature is the dining area is limited to two persons. This also limits it seating for day travel to 4 persons. It's built on a Ford Transit Chassis with a 3.2 liter Turbo Diesel. List price is above $100,000 ($108 to 115K) but you may be able to find a deal for under $100,000.
Phoenix Cruiser

The Phoenix 2100 is the most compact full-featured Canadian or American-made Class C we've found. In terms of providing useable space and conveniences in a modest-size footprint it is the most space efficient USA motorhome we've come across. It's a compact 21′ 7″ long and under 10′ in height including the AC unit. It has a four person dinette and a full dry bath with a separate shower. Adequate size kitchen with a counter top extension. The slide-out contains a full-size walk around bed that in the daytime folds up into a sofa. The Phoenix provides seat belts and seating for 6 people so it works as Van alternative for comfortable day trips. In comparison to the Rialta, we'd lose our nice big rear picture window and quite a bit in MPG. I'm also unsure about exterior storage; a must-have for us is the ability to carry two golf bags. The Chassis is the Ford E350 with the 6.8 Liter V-10 gas engine (gas mpg?). Comes factory direct with a nice selection of premium convenience options for under $100,000.
Pleasure-Way Plateau . . . really Sharp, but expensive, compact Class C RV
After I wrote this original version of this article I saw a video of the Pleasure-Way Plateau XLTS (see my review) and saw some nice features that would challenge the top Compact Class Cs featured in this post. Except that MSRP is $145,000 plus! But if you've got the cash and desire a full-featured compact Class C, it might be the unit for you.
Another new 2018 compact motorhome I am anxious to see up close is the North American Hymer Aktiv 2.0. It is a Class B, but from the pictures I've seen it seems more spacious and airy inside than the usual Class B. See our report here on Best Class B RVs or Van Campers
Concluding Remarks. The Phoenix Cruiser and the Thor Compass come closer than other US-Canadian RV makers to the European standard of right-sizing RVs, but not good enough in our opinion. Guess we'll have to wait for the US-Canadian RV market to change before we can seriously consider replacing our Rialta. We are looking for a model under 23 feet, under $100,000 price, external storage for at least two golf bags, with all the usual RV accessories and comforts, and most of the the criteria we listed at the beginning of this article as plus-features of the Rialta. Know of any model that comes close? Write me in the comments.
More Motorhome Reviews:
MotorHome Manufacturer Links:
---
RV Traveling & Camping
Cedar Key a hidden gem of the Gulf Coast. See our article on camping, hiking, and interesting things to see and do in and around this unique Florida Gulf Coast community.
More RVing Resources
See our calendar of Best RV Shows for 2022
See our recommended RV & Scenic Travel Guides.
What are your favorite compact Class C motorhomes? Let me know in the comments below.
Your Travel Guide: Ross Reinhold