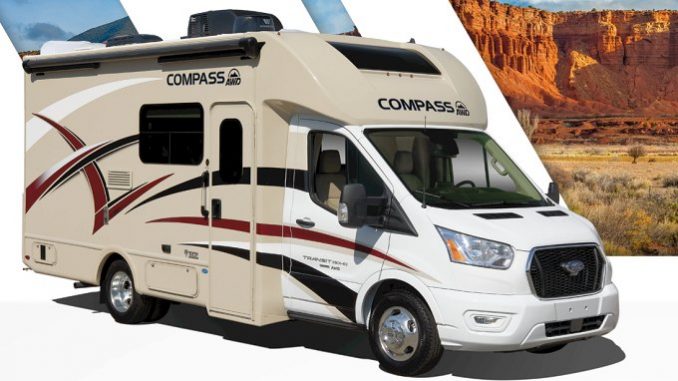 We have just posted a 2021 Update to our Best Compact Motorhomes – so check it out for the latest recommendations. However if you are in market for a pre-owned compact motorhome the following reviews can be helpful as two of the units we previously liked are no longer being produced in 2021.
When we did our last review of best compact motorhomes, we found the best examples in Europe where RV enthusiasts have a huge selection of full featured motorhomes under 23 feet in length. (See our article here).
In reviewing what is offered by the US motorhome industry, we found and profiled a few minimally acceptable compact Class C's (see our 2018 review here)
In reviewing the offerings for 2020, we think the most compact US Class C RV motorhomes continues to be the Winnebago Fuse, which we profiled last year and the Thor Compass, which we liked in our 2018 compact motorhome review. There is one new entry in this category we think deserves mention – the Coachman Cross Trek 20XG. For 2020-21 below we'll profile the changes in the Compass and the Fuse and do a more complete review of the Coachman.
Winnebago Fuse
The Winnebago Fuse has remained largely unchanged from our earlier review. It is 10'1″ high and 24 feet long, at least a foot longer than what we'd want for a compact motorhome, but few US manufacturers are building a shorter full featured model. One item we like is it borrows a small version of the outside garage style storage quite standard in Europe that allows up to 35 cu.ft of exterior storage. The Fuse is now available in 3 floor plans. All 3 floor plans feature a slide out to give you more interior room. It is built on the Ford Transit chassis and comes standard with the 3.2 liter diesel engine. (See more details in our full updated Winnebago Fuse review here)
Thor Compass RUV
The changes in the Thor Compass (shown at top of this page) for 2021 are primarily new features offered by the Ford Transit chassis. So it now comes in All-Wheel Drive and a roll stability control system. They are advertising the unit as an RUV (Recreational Utility Vehicle). We like that is 6 inches shorter than the Fuse (good) at 23'6″ but it is 7 inches higher (not so good) at 10'8″. The amount of exterior storage is also less than the Fuse, topping out at 24 cu. ft. We like the 23TW Floor Plan best. It has a queen-size bed in a slide out and a larger dinette unit than the previous model. But the down side of the TW model is you lose 8 cu. ft of external storage (only 16.2 cu. ft). The other floor plan (TE) offers a Murphy Bed and you more external storage. But the trade-off is you lose dinette unit which we like. A plus of the Compass over the Fuse is both models feature a ceiling skylight. Like the Fuse, the Compass is built on the Ford Transit chassis but Thor offers it only with the gas engine, a 3.5 liter turbo powered V6.
Coachman Cross Trek 20XG
A new entry in the more compact Class C RVs, is the Coachman Cross Trek 20XG. It is 24′ long and 10'6″ high. Like the Fuse and the Compass it also uses the increasingly popular Ford Transit Chassis. Like the Thor Compass it is powered by the turbo powered V6 gas engine and comes standard with All Wheel Drive.
The Coachman Cross Trek has several attractive features. It features a huge 130 cu ft European garage-style exterior storage area. It will handle at least two golf bags as well as other bulkier items like lawn chairs or bikes. No American or Canadian Class C comes close to offering this amount of exterior storage. Inside it features a full double bed and a separate two person dinette/sofa unit. So no need to fold up the bed for daytime use. Other strong features are a more spacious shower unit separate from the lavatory and toilet room, generous amounts of interior storage including a hanging closet compartment and a pantry. The unit also has more horizontal counter space in the kitchen area than usually found in a unit of this size. Overall we are impressed with the interior layout.
Despite our enthusiasm for the layout, we have a few concerns about the 20XG.
While packing a lot of interior features in a small space, the amount of glass window area may be compromised. I didn't see a skylight in the unit. So I fear a claustrophobic feel to the interior with the lack of sufficient natural light.
Another possible negative is the height from the floor of the rear full size bed. A small ladder is needed to climb into the bed which some might find a hassle. And also some may find it has insufficient head room. They could have made the huge exterior garage unit a wee bit smaller to make it easier to hop into the bed and provide a bit more head room.
Coachman has elected to omit a generator unit, going instead with a high 330 amp hour AGM battery and a 3000 Watt Xantrex inverter which allows you to run all appliances, including the AC unit. My guess is that may get you boondocking one day and night, but that's it.

By omitting the gen set they should have made the optional 380 watt solar panels standard equipment. Most RV motorhomes that leave off the gen set have replaced it with standard solar units and lithium batteries plus the large wattage inverter. The advantage of the lithium batteries over AGM (and lead acid) is they can be almost fully discharged without damage whereas AGM and Lead-Acid shouldn't be discharged more than 50%.
Coachman's website is a bit short on specifications and as a new model there's not a history on build quality or experiences from other users. We do like the concept and look forward to seeing one in person. Stef and James at FitRV.com did quite an extensive video review of the Cross Trek.
Pleasure Way Plateau XLTS
Except for its quite high price tag, in 2018 the compact Class C we most liked was the Pleasure Way Plateau XLTS (see our review). It was under 23 feet long and did some creative things in the interior to make good use of the space. But as mentioned, the main downside was the price: MSRP around $145K. For 2021 PleasureWay is redesigning the Plateau line and has yet to release their new version. We hope the new 2020-21 XLTS stays under 23 feet. (2021 Update. PleasureWay has dropped their Class C units so they are out of the running for compact Class Cs. You can still find XLTS in the pre-owned market)
Compact Class C RVs still a rare bird
So other than the premium priced PleasureWay Plateau XLTS and the truck based 2100 Phoenix Cruiser, no North American RV manufacturer is offering a full-featured RV in a chassis less than 23 feet. It seems that mainly the US and Canadian Van-based Class C Motorhomes are getting bigger and more tricked out with luxury items to justify a higher price tag. Basically if you are in the US or Canada and want a compact and fuel efficient motorhome, your choices are limited to Class B motorhomes (see our Best Class B RV 2021 review).
But among the Class B units there is a new wrinkle that offer more living space in a small footprint by the use of a pop-top expansion, reminiscent of the classic Westy VW Camper Bus. Look at our reviews of the Best Camper Vans for 2021.
Links to more Motorhome Reviews: