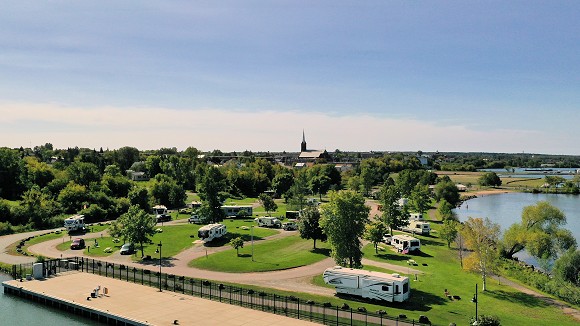 On the Lake Superior Circle Tour Scenic Drive
When we are RVing around Lake Superior, one of our favorite campgrounds is the lakeside park in Ashland, Wisconsin.
Kreher Park is an Ashland municipal campground offering 33 RV ONLY sites with electric and water hookups. Located on Chequamegon Bay of Lake Superior, the park also offers a boat ramp, playground, showers and bath house, and a swimming beach. It is open May to October. 2021 rates were $35 a night and $40 a night for lakefront lots.
What to like about RV Camping at Kreher Park?
One of the things we like best about Kreher Park is that it operates on a "First Come, First Served" basis – no advance reservations. This is particularly helpful during peak summer vacation times when most RV sites are fully booked up, often months in advance.
Another plus is that the park is within walking distance to the downtown attractions of the city of Ashland and even though close to downtown it is also is well insulated from traffic on near Hwy 2. (See things to see and Do in Ashland)
The Lakeside walking and biking trail, that joins the East and West sections of the lakeshore runs through the campground.
Among the attractions of visiting Ashland is their Mural Walk through the downtown area depicting numerous aspects of Ashland's history.
Ashland Restaurants
When we are staying in Ashland, our favorite places to eat in Ashland are the Deep Water Grille of South Shore Brewery and Hugo's Pizza. Other popular spots we like are Molly Couper's Lounge in the Chequamegon Hotel and 2nd Street Bistro.
A place to eat we've driven by several times on Hwy 2 is Explorer's Point Restaurant, located on the western edge of Ashland next to the Best Western Inn. On a recent trip we finally had a chance to try them. We'd noticed the evening before on our way into town that there were a number of cars parked there for dinner. Being a weekday evening, before the usual tourism season, we figured this was a sign that the "locals" found this a good place to eat. So we gave it a try the next evening.
Our guess was right. Excellent friendly wait service, an attractive Northwoods Chalet interior with spacious and comfortable booths, and tasty food for a reasonable price. Jo had their deep-fried lake perch fillet that looked as big as a walleye. Garlic mashed potatoes, assorted steamed vegetables, and a good sized dinner salad. I had a large Veggie Wrap with swiss cheese+beer cheese soup and a nice cold stein of Nut Brown Ale. Total cost of dinner with a decent tip was about $36. We will be back here again!
Update: Explorer's Point is now El Charro, Mexican Bar & Grill
---
Our Superior Trails website has more information on Things to See and Do in Ashland, WI
Going to Ashland or Bayfield in the future here are some links to check out:
Bayfield, Wisconsin Calendar of Events
–Ross