Apalachicola – Gem along the Forgotten Gulf Coast
(While Apalachicola sustained some damage from the October 2018 Hurricane Michael the town recovered quite quickly and is now fully open for business and entertainment)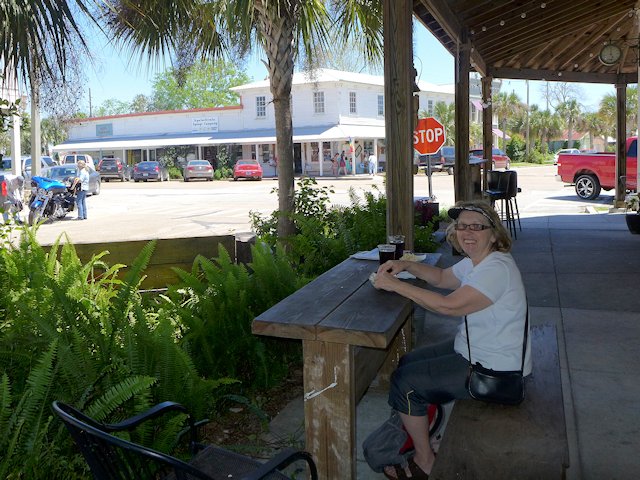 Apalachicola has a rich history, established in 1831, at one time it was the third largest port on the Gulf of Mexico. Cotton and timber shipments dominated its early economy. Later oysters and seafood became prominent industry. Today it retains some of this maritime prominence in that the Apalachicola Bay Estuary provides 90% of Florida's oyster harvest, as well as shrimp, blue crab and other seafood varieties. Celebrating this maritime heritage, it annually hosts the Florida Seafood Festival, Florida's oldest maritime event.
Many of Apalachicola's former 18th and 19th century factories and warehouses have been restored and re-purposed into eclectic shops, galleries, restaurants, pubs, and B&Bs. An unusually large number of homes and buildings are on the National Historic Register, making Apalachicola a distinctive historic destination. We enjoyed walking around the downtown business district and nearby neighborhood seeing all the artful and sometimes humorous restorations of these old buildings and structures.
Apalachicola Historic District
At the visitor center we picked up a walking tour of the downtown area historic district. Got some good exercise walking around town seeing many homes and buildings over a hundred years old lovingly cared for. The Gibson Inn, pictured at the top of the page, was built in 1907 as a full service hotel and continues to this day.
Slide Show – A few of the many historic homes and buildings in Apalachicola
---
---
Slide Show – A few of Apalachicola's unique shops, boutiques, and galleries
---
---
---
---
Apalachicola Restaurants
Best Restaurants in Apalachicola – See our Reviews
See our reviews of Up the Creek Raw Bar, Boss Oysters, and Hole in the Wall Seafood, plus our list of other top rated Apalachicola places to eat and imbibe.
Apalachicola Beach?
From our perspective the only thing missing in Apalachicola is the signature white sand beaches found at most other communities along the Gulf Coast Scenic Drive. Because of the large fresh water flow of the Apalachicola river and the barrier islands that help form the unique Apalachicola Bay Estuary, the shoreline is marshy rather than sandy.
But beach goers won't have far to travel to get their beach experience. The bridge to St. George's Island is only a few miles away where there is 20 miles of pristine beach on the Gulf. And if you are camping or RVing, St. George Island State Park occupies the far eastern end of the island.
Camping in or near Apalachicola
The closest campground for RVers visiting Apalachicola is at St. George Island State Park, which is hugely popular and very difficult to get in without reservations months in advance of your visit. Your next best bet is  Indian Pass Campground – see our review, about 21 miles away west of Apalachicola. However the city does allow overnight parking in a city lot north of downtown and we have found it a safe and convenient spot to boondock for a night or two while we are visiting and enjoying Apalachicola.
Travel and Tourism Links:
The portion of the Gulf Coast from the St. Joe's Peninsula and east to Apalachicola and beyond calls itself the Forgotten Coast. So far what we've seen of it, we like it. We look forward to exploring further east and north to the communities of Carrabelle, SopChoppy, Shell Point and other places along the Forgotten Coast.