Is Airstream the Best Compact Tow Behind RV? What else comes close?
The Airstream Travel Trailer is the benchmark in quality and luxury among RV campers. But before you buy there are 7 other brands and models you should consider before buying an Airstream.
In this article, I review the 20 foot Airstream Bambi and its top-rated competitors in the premium compact travel trailer category – the Sol Horizon, the Escape 19, the Lance 1685, and the Little Guy Max. I also include shorter profiles of 3 other full featured compact trailers we like: the Oliver Legacy, the Safari Alto, and the Casita Spirit Deluxe.
---
---
Shopping for a Full-Featured Compact Travel Trailer
My wife and I have been Rvers in our Rialta Motorhome since 2004 and love our little traveling house on wheels. Until recently the kind of Rving and camping we've done involves short stays and lots of travel and exploration of different places. Lately we've been thinking about spending a portion of the Winter in Florida and essentially parking at one campground or RV park for the duration. That led us to start thinking about a travel trailer, one that would give us a little more living space and avoid having to disconnect every time we wanted to go golfing, go to the store, or tour some nearby attraction.
We were drawn to the Bambi Airstream Travel Trailer for reasons similar to our attraction to our Winnebago Rialta. Both have the eye appeal of curvy, aerodynamic lines, have lots of natural interior light, and engineer many amenities into a small space. We didn't want a long trailer both for ease of driving and for parking. Camping at a state, national, or Corps park, with a long trailer is a disadvantage in being able to secure a site during popular camping periods. In this case, being short is beautiful, no more than 23 feet.
Our other desired requirements in a travel trailer:
External Storage for two golf bags
Dedicated sleeping area
Dedicated Dinette table/lounge
Hanging Closet Space
Useable amount of Kitchen Counter Space
Useable Bath/Shower
Quality Battery & Electrical Systems
Dry Weight under 4500 lbs
The Airstream 20FB checks most of all of these features. However the Airstream positives and good looks come at a price, perhaps the highest per foot of length among travel trailers. That high price and reputed required maintenance to keep that shiny aluminum skin looking good and rust free has led us to look for alternatives to an Airstream.
In this article I'll profile what to like about the Airstream Bambi 20FB. Next I'll offer some short descriptions of what I see as the top alternatives to the Airstream Bambi, ones that offer similar features but at a lower price than the Airstream.
Review: Airstream Bambi 20FB
The Airstream is widely considered the crème de la crème among travel trailers. It is admired for its awesome iconic art deco design profile, quality components, luxury appointments, and spacious well-designed living space. I am attracted to the Airstream for these elements plus the generous amount of window glass which lets in a goodly amount of light to the interior, helping make living in such a small environment much more manageable.
The Airstream Bambi comes in four models. The 20FB is the one I best like. It has the bed up front, the galley and bath in the rear, and the dinette-lounge in the center of the unit. The FB is 20.5 feet long, 8 feet wide, and weighs in at 4000 lbs. Even with the AC unit, it is only a sleek 9'3″ high while providing up to 6'4″ of interior headroom. Its body is all aluminum with the iconic shapely art deco profile that has identified Airstream's since the 1950s. Another classic Airstream feature is the set of wrap-around panoramic front windows, first introduced in the 1970s. The current version provides tinted windows protected by a second hinged solar window that functions as a rock guard and additional sun shading.
Standard Airstream Features & Options
As the most expensive travel trailer in its class, premium features that would be options on other trailers are standard equipment. Among these standard features are: an awning, all aluminum wheels, a tankless on-demand hot water system, a rear-view camera, an AC unit with a heat strip, and a 1,000 watts pure sine wave inverter to run most appliances on just the battery. The brochure lists perhaps a hundred notable features that are standard equipment. The only features that are optional are those that enhance its off-the-grid camping: a solar panel package and a lithium-based battery electrical system.
What I Like About the Bambi 20FB
Both my wife and I love the floor plan. It has a spacious dinette/lounge area that will seat four people and the front double bed that is separate from the kitchen and living area. Other standard amenities include: a wardrobe closet with a hanging bar, a pillow top memory foam mattress, a dry bathroom with a separate shower unit, a huge amount of galley counter space with generous under-counter storage, and crisp European style handcrafted laminated cabinetry. The overall ambience is enhanced by the light-colored interior finishing and the generous number and size of the windows. If you are going to "live" in a small space, having design features offered by the Bambi 20FB helps mitigate claustrophobia; for my wife and I that is a really important feature.
In addition to the visible features a strong plus of the Airstream is its quality manufacturing and reputation which helps in peace of mind and adds materially to the resale value if you ever have to sell your Airstream.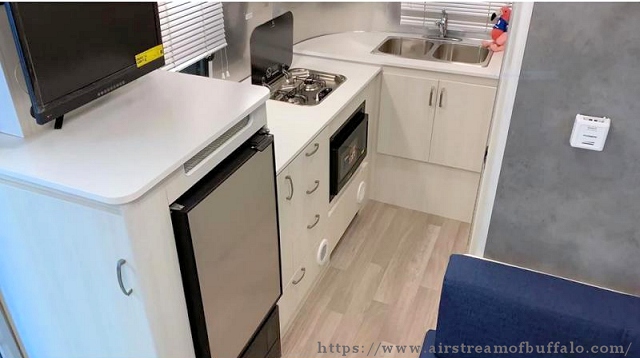 The Airstream 20FB ticks all the requirements we stated in our introduction . . . except one: it does not have generous exterior storage. There's a small compartment in the rear suitable for some tools and water hoses, but that's it. However somewhat compensating for the modest exterior storage is a large storage area underneath the bed.
What Not to Like about the Bambi Airstream
The quite high retail price is the reason most Rvers do not consider an Airtstream. While you get plenty of premium features as standard equipment and top quality construction, many find it difficult to justify paying that much more for these features. Its retail price can be almost double what some similar size trailers would run.
Another drawback is also a strength. The aluminum body that might last a lifetime also takes a fair amount of maintenance to retain that like-new appearance. Also if a repair is ever needed to the body, it will be more expensive and difficult finding a skilled repair technician.
Other disadvantages include its heavier tow weight, about 20% higher than other models of its length and as we mentioned earlier tiny exterior storage.
We've learned a common complaint of Airstream owners is the difficulty with opening the windows. They tend to stick shut.
If you want to boondock for more than overnight, you need to upgrade to solar, lithium batteries, and a larger inverter as Scott and Collete did (see their video ). Plan to pay few thousand dollars for this option.
---
Top Towable RV Competitors to the 20 foot Bambi Airstream
The Sol Horizon Travel Trailer
The InTech Sol Horizon could be described as a thoroughly modern version of the Airstream. Like the Airstream, it has a huge panoramic front window, premium appliances and amenities, and a clean, uncluttered light-toned interior. Sol Horizon's 8 tinted windows and well-designed interior provides a more spacious experience than one would expect from a 19′ long travel trailer. Its frame is aluminum with a fiberglass skin. The Sol provides much more generous exterior storage than the Bambi, a larger bed, and a larger lounge area. However the Bambi has more galley counter space and a larger dry bath/shower plus more standard features.
---
The Escape 19 Travel Trailer
Built in Canada's British Columbia, Escape Trailer's 19.5′ foot model has a low, rounded, aerodynamic profile similar to the Airstream – but instead of an aluminum body, you get a one-piece low maintenance fiberglass body. While not having a large panoramic front window, its 9 windows let in lots of natural light to the interior. Its dual axles allow more than 1600 lbs. of gear to be carried in its spacious interior cabinets and larger than normal exterior storage.
The Escape is sold only through direct sales which allows a customer to more completely customize, among 100 personalized options, how they want their travel trailer appointed. The website provides ample customer resources, supplemented by an enthusiastic and loyal owners group. You can preview, in person, an Escape trailer through their owners group, whose members have agreed to be Escape ambassadors.
---
Lance 1685 Travel Trailer
The 21′ foot Lance Camper provides more interior space than the Bambi and other top alternatives due to the fact that it has a slide-out that accommodates the dinette lounge. It has a large front window and a total of 8 windows overall, plus a skylight, providing the airy interior important as an Airstream alternative. Dual axles allow over 1500 lbs. of additional carrying capacity and add stability on the road. We like its generous external storage and large fresh water and gray and black tank capacities. You can add up to 2 solar panels and a Lithium battery system to facilitate extended boondocking. A spacious interior with quality finishing.
Lance has a reputation for quality construction and providing good value for the price.
If you don't like slide-outs, Lance has a similar model to the 1685: the 2075 which is about 1.5 feet longer but about the same weight.
Caveat. Since our initial review of the Lance, we've talked to two owners who are less than satisfied with the construction quality and the responsiveness of the factory to their inquiries.
---
The Little Guy Max Travel Trailer
Little Guy Trailers have developed a large version of its classic teardrop trailer with a queen bed in the rear and a dinette lounge set in the front. Large windows in the front and rear, plus generous sized side windows, provide lots of interior light. The floor plan provides a decent amount of interior storage including a pantry and a hanging clothes closet. The bath is a compact wet bath/shower combination. Plus there are ingenious cubby hole storage compartments throughout the unit. Overall it offers an attractive interior with an intelligent layout. Befitting its name, the Max has a large 35 cubic feet of external storage. The Little Guy has more than 1100 lbs. of cargo carrying capacity so you can bring the bikes and lots of camping accessories.
A strong feature of the Little Guy Max trailer is its teardrop shape and lighter weight making it easily towable with an SUV. Even loaded down with 1100 pounds of all your toys and cargo, it will weigh less than 5000 lbs.
---
Other Competitors to the 20 foot Bambi Airstream
Oliver Legacy Elite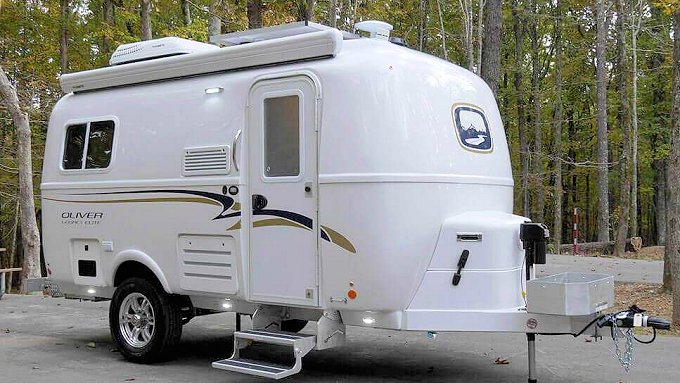 Another quality premium-priced travel trailer many consider a competitor to the smaller Airstream trailers is the Oliver brand. Oliver produces 2 very durable fiberglass trailers with luxury features and a reputation for quality. The interior furnishings are low maintenance molded fiberglass. However its design layout offers fewer and smaller windows than other top Airstream competitors and its interior width is a foot less than the Bambi. Our main concern is the paucity of natural lighting and the lack of the spacious ambience that is one of our prime criteria, but if that isn't an issue for you and you want a compact luxury travel trailer, take a look at Oliver. Oliver Website
Casita Travel Trailers
Casita has been making compact travel trailers since 1983. Like the Oliver and the Escape, its body is a low-maintenance fiberglass shell with very few seams – making it highly waterproof. The Casita is offered in a variety of interior configurations for the needs of couples or families. The configuration we like best is the Casita Spirit Deluxe which has two dinette areas. This allows the rear dinette/bed combo to be left permanently in the double-bed position, while still having a dinette suitable for two people. Other floor plans will allow sleeping of up to six people.
Also like the Escape, there is no dealer network. You order directly from the factory. However you can "see" a Casita trailer near you via their Casita Discovery Program, which is a network of Casita owners who are happy to showcase their models for you.
All Casita models are built on the same 17 foot chassis, a little shorter than the Airstream, Escape, and Oliver models we are profiling in this article. It is amazing how much they are able to pack into the shorter chassis. For example, the Spirit Deluxe, in addition to having both a permanent double-bed and a separate dinette area, also has a wardrobe closet and a spacious bath with a separate shower.
If Casita came out with a 19 foot model I think it we would have put it a the top of our list of Airstream Alternatives. Casita Factory Website
Safari Alto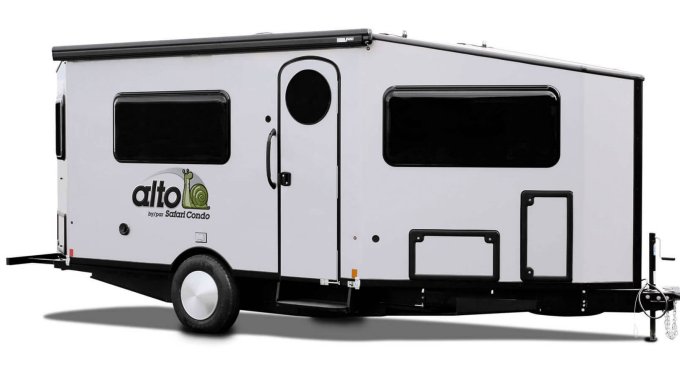 Another interesting line of compact travel trailers are the Safari Alto models, sold direct from the Safari Condo factory in Quebec. All of the models provide generous natural lighting and have an ingenious layout that packs many features into a smaller space. I am most intrigued by the A21 model for its aerodynamic shape and interior features. One item US customers will want to check is the availability of air conditioning. Apparently an AC unit is not standard equipment (perhaps the climate in Quebec allows comfort without AC most of the summer?).
More RV and Motorhome Review Links