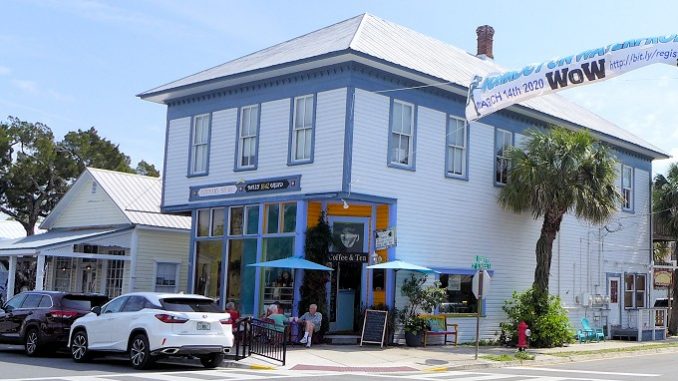 Restaurant Review: Daily Grind & Mercantile Cafe, Cedar Key Florida
Located in the epicenter at the intersection of Road D (Hwy 24) and Main Streets, the Daily Grind is downtown Cedar Key's most popular gathering place for gourmet coffee, breakfast, and lunch. They offer Organic Fair Trade beans from roaster to you, baked goods daily and a light breakfast and lunch menu. It is regularly listed at dining review sites among the top places to eat in Cedar Key.
On a nice day, the sidewalk café is always occupied by people enjoying coffee, conversation, and a bite to eat. The café is close enough to the water to catch a nice breeze off the gulf. Inside the colorful café, there is seating for several more at two-party tiny ice cream style tables and a few four-person tables.
It was warm, sunshine day so we elected to eat outside on the sidewalk patio.
We were there mid-morning and chose a hybrid between their lunch and breakfast fare – electing their vegetarian quesadilla with spinach, sliced avocado, feta cheese, and a flat-scrambled egg substitute for bbq pork. Served on four soft-shelled taco wraps, with a side of sour cream and a cup of salsa salad of corn, beans, onion, and diced tomato. A tasty choice and sufficiently filling. Our beverage choices were huge mugs of dark roasted coffee.
The Daily Grind is an intimate and informal café staffed by friendly and attentive folks. You place your order at the bar, take a number, and then your order is delivered at your table when it was ready. We were deliberating over the menu, trying to decide on our lunch fare when the cook popped out of the kitchen and offered us some customized choices to solve our dilemma. Later the cook dropped by our table to check how we liked our meal.
A fun and friendly place to eat and our experience validated their reputation as one of the top places for breakfast or lunch in Cedar Key. We look forward to returning some morning for their pancake breakfast.
See our list of Best Restaurants in Cedar Key Florida
More Dining Reviews & Best Restaurants in Cedar Key, Florida
---
Places to See, things to Do Cedar Key, Florida