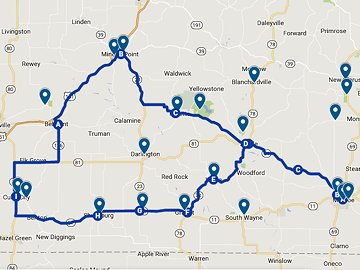 Shullsburg, Wisconsin – on the Cheese Country Scenic Drive
Founded in 1827, Shullsburg's early development, like many communities in SW Wisconsin, came from lead mining. The Milwaukee and St. Paul Railroad established rail service in the 1880s which added more impetus to the development and prosperity of the town. Most of the brick buildings that now occupy the Water Street Historic District were built from 1880 to 1900. Mining remained an important economic mainstay to the Shullsberg economy well into the 1940s but ceased altogether by the 1970s.
Visitors can learn about Shullsburg's mining history at the Badger Mine and Museum. Several exhibits and artifacts illustrate Shullsburg's mining history and guided tours are available through what is said is the only primitive lead mine open to the public in the country.
Dairy products and cheese is another lynchpin in Shullsburg's development in the 20th century. The Shullsberg Creamery began operations in 1934 and continues to this day manufacturing and selling Shullsberg Cheese.
The Shullsberg Cheese Store is the factory outlet for the Shullsburg Creamery products. They also package products from other area cheese producers in their private label. Like many other factory outlet cheese stores along the Cheese Country Scenic Drives, the Shullsberg store offers an array of other artesianal food products, including craft beers. You can purchase pre-packaged cheese products or have your cheese cut to your desired amount from their deli case.
Beginning in the 1980s local business people and civic minded entrepreneurs began restoring the old and abandoned commercial buildings along and near Water Street, the main downtown thoroughfare. Today there are 44 buildings that are part of Shullsburg's historic district that now contain interesting retail shops, artisan galleries, gift boutiques, antique stores, restaurants and pubs, inns, and of course cheese shops. See the Walking Tour of Historic Shullsburg
---
---
Shullsburg Restaurant Reviews
Dining Review The Burg Tavern.
We first dined at the Burg Classic Tavern on a late Sunday afternoon when the other popular dining establishments were closed. The Burg opened in November 2015 after remodeling a space that had served a variety of business enterprises since 1886. The ceiling was raised and plaster removed from the walls to reveal beautiful brick stone work. The high ceiling and brickwork present a nice combination of historic and new, offering spacious and comfortable dining with a touch of sports bar atmosphere provided by several large flat screen TVs. Jo had her favorite sandwich, a ½ pound Mushroom and Swiss Burger that came with a fresh portabella mushroom vs the canned stuff you sometimes get with this style burger. While the burger was large, the bun wasn't overly big which made it easier to eat. Taste-wise it rivaled some of the best she has had. I had the Chicken Ceasar Wrap which came nice and hot, good portion size, and very tasty. We loved the sweet potato fries side dish. Service was super-friendly and efficient. Price was decent for the quality. The Burg menu, in addition to sandwiches, wraps, and pizza also offers a good variety of traditional dinner entrees – steaks, seafood, chicken, and ribs.
Second impressions. We did a return visit on the first Saturday in November of 2016 to see how things were going at The Burg. Upon arrival we were greeted by the friendly bartender as soon as we were in the door. I ordered a Leinie Oktoberfest while Jo sample tasted the cabernet and merlot (eventually picking merlot) while we deciding on our late lunch. We decided to split a 12 inch veggie pizza and each order a salad bar add-on to go with it.
The pizza was decent, but what we found exceptional was the salad bar, offering a wide variety of salads and fresh vegetables. It would have been easy to make a meal from the salad bar alone. Jo felt it was one of the best salad bars she's had in ages. And as an add-on to a sandwich or pizza for only $3 more it was a terrific deal.
Later one of the owners, Jeff Doyle, whom we met a year ago, returned to working behind the bar. That's another thing I like about the place – ownership is on site and working side-by-side with the staff. So the Burg continues to get high marks from us for service, good food, and a comfortable atmosphere.
Two other restaurants in Shullsburg get very good reviews in Trip Advisor (see below). We'll have to try them the next time we are in town.
Brewster House Restaurant
Next to the Shullsberg Creamery. Located in the former 1886 Brewster House Hotel. It gets strong favorable reviews from Trip Advisor with many repeat customers who make it part of their tradition in visiting Shullsberg. The restaurant is connected to the Shullsberg Creamery Cheese and Gift Shop, another favorite stop for Shullsburg visitors.
Water Street Pub & Restaurant
The Water Street Pub is part of the Water Street Place Inn originally built in 1883 and for a time served as the First National Bank of Shullsburg. The bank ceased operations in the Great Depression and later was home to variety of professional services and offices. In 2001, after being vacant for 20 years, it was purchased and remodeled by Chuck and Jill Staab, experienced Inn Keepers and Restaurant Managers. The Staabs continue to run both the historic hotel and the Pub & Eatery. It gets 4 ½ stars from Trip Advisor. Reviewers particularly like their Reuben Sandwich and enjoy the old time atmosphere including the old bank vault which has been re-purposed as part of the Tap Room.
More Links:
See our articles and maps on Cheese Country Scenic Drives
Schullsburg Chamber of Commerce
Shullsburg's History