Gulf Coast Scenic Highway 30A – Grayton Beach to Apalachicola
After driving for several miles through a succession of ocean side condo complexes from Destin, we finally arrived at something different & special – the unique and charming village of Grayton Beach – article & photos here. The tiny village traces its founding back 125 years when vacationers used to travel by horse and buggy to enjoy its white sand beaches and small town character. As you walk through the town you can see many examples of old cottages lovingly restored and some with a humorous and artistic twist.
The town is largely surrounded by Grayton Beach State Park which has served to limit the expansion of the village and probably played a role in preserving its unique character. The State Park's gulf beach extends on both side of the village providing more than a mile of relatively uncrowded pristine beach terrain. The park also encompasses a 100 acre coastal dune lake providing opportunities for canoeing, kayaking, paddle-boarding and fishing. There's a 59 unit campground and 30 cabins in the park and biking and hiking trails. Make your reservations early as this is a popular park.
Grayton Beach and the State Park are located along the paved Walton County hike/bike path that runs adjacent to Scenic Highway 30A. Biking is one of the best ways to get around town as well as the three nearby towns east of Grayton Beach . . . as there isn't a lot of public parking space.
Links: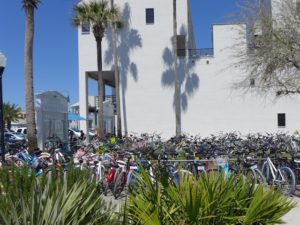 Going east of Grayton Beach on 30A you quickly arrive at the very upscale community of Seaside with an extensive collection of modern condo units and a popular town square that hosts entertainment, beach-related enterprises, festivals and outdoor food carts. We drove through this town in late March during spring break time and were in awe of seeing what seemed like a thousand kids on bikes running back and forth along the bike path adjacent to the road and droves of teens crowding around the food and entertainment in the town square plus walking to and fro. I wonder how crowded the beaches were because there were sure lots of people walking and biking around town. Seaside is a popular place.
Further east of Seaside is the community of Seagrove (more beach condos) and then at the end of Scenic Highway 30A the community of Rosemary Beach essentially a replication of Seaside with condos, beach resort venues, a very busy town square and people walking and biking everywhere. These three villages east of Grayton Beach seem to be very popular, especially with families. If you rent a house, cottage or book lodging at a condo many types of entertaiment, in addition to the beach, are within walking distance (and biking and bike rental places abound!). These villages must have a reputation as safe places because there were young kids streaming all over the place, many without any adult supervision.
Links:
Seaside Florida
Seagrove Florida
Rosemary Beach Florida
Article continues below advertisement – – –
---
Heading towards Panama City Beach
After Rosemary Beach Highway 30A rejoins highway 98 and the average speed of traffic accelerates. On your way toward Panama City Beach, highway 30A splits off and runs along the Gulf shoreline. You go through a few suburban beach communities like Hollywood Beach, Sunnyside and Laguna Beach. The beach front is largely public with lots of parking along the road. Unlike Destin and the beach communities of South Walton along 30A, very few structures are built on the beach itself. Most of the resorts, townhomes, cottages, and condos are on the other side of the highway.
These communities west of Panama City have the look of more affordable beach vacation destinations and or an affordable retirement community. Not at all sparkly and upscale like Seaside and Rosemary Beach.
As you get closer and closer to Panama City Beach, things get bigger, denser, and high rise resorts begin to dominate the landscape. Once in the thick of Panama City Beach it is an unbroken chain of huge resorts along the beach flanked by various beach resort entertainment venues usually on the other side of the street from the beach front. While there were a fair amount of people on the street and the traffic was heavy, we saw only a fraction of the people milling around in the three South Walton communities. Most people staying in these huge resort complexes must be at the beach or inside enjoying whatever amenities are in these luxury facilities. This is a more urban setting and to my thinking not the kind of place where you could turn your kids loose like you could at Seaside or Rosemary Beach.
With so many mega-resorts per mile there has to be a sizeable demographic that finds Panama City Beach appealing. For us, one trip was enough for lifetime. On our return trip we stuck to Highway 98 that ran away from the beach and then through Panama City itself.
About 10 miles east of Panama City, along highway 98 you arrive at the small community of Mexico Beach where the pace of life slows down quite a bit. There's an extensive public beach area with lots of free parking. The collection of cottages, vacation homes, and condos are all on the non-beach side of the highway. There is an assortment of restaurants, pubs, charter fishing, a fishing pier and beach related enterprises to give vacationers a variety of things to do. If you like being at the beach, aren't attracted to the urban beach resorts like Destin and Panama City Beach, and can't afford the a Seaside or Rosemary Beach vacation, Mexico Beach could be the place for you.
The next town Port St. Joe is less a vacation community and seems to have a more industrial or commercial base but it does have a nice downtown waterfront and park area. Port St. Joe looks out across an expansive lagoon to the St. Joseph Peninsula so technically it is not on the Gulf. The lagoon forms the St. Joseph's Bay Aquatic Preserve. Near the tip of the Peninsula is St. Joseph Peninsula State Park that offers camping, hiking, and an extensive beach fronting on the Gulf.
On your way south of St. Joe, Highway 98 and Highway 30A part company again. 30A runs along the Gulf past the entrance to St. Joseph Peninsula and past Indian Point, a smaller peninsula that is primarily a vacation home community, but has a nice secluded RV and Tent Campground at the tip. Along this route there is a string of barrier islands: St. Vincent, Cape St. George, and St. George Island. The first two can only be reached by boat; but there is a 3 mile long bridge across Apalachicola Bay to St. George Island.
Historic Apalachicola
If you elected to stay on Highway 98 on leaving St. Joe you'll save about 15 or 20 minutes on your drive to Apalachicola, one of our favorite places along the Panhandle Gulf Coast. Unfortunately because it is protected by those barrier islands, Apalachicola doesn't have those glamorous white sand beaches. You'll have to drive out to St. George's Island to get your "Gulf Beach Fix." But for many other kinds of vacation entertainment we like Apalachicola a lot. It has several quaint restaurants and bars, even a brew pub, lots of neat little shops and galleries, some interesting parks, museums, a large number of historic register homes and structures, and some attractively restored B&Bs. It has a very walkable downtown area that is adjacent to the Apalachicola River Delta. There is adequate public parking in and around the downtown and while busy with tourists, it never seemed crowded. The oyster fishery in Apalachicola Bay and the Apalachicola River is reputed to be Florida's finest so the oysters served here come right off the boat to the restaurant.
(Gulf Scenic Drive, Part 2 Map. if viewing on mobile use two fingers to move map around)
Links:
The portion of the Gulf Coast from the St. Joe's Peninsula and east to Apalachicola and beyond calls itself the Forgotten Coast. So far what we've seen of it, we like it. We look forward to exploring further east and north to the communities of Carrabelle, SopChoppy, Shell Point and other places along the coast.
Ross
by