Best RV Shows for 2018
Recent Posts: Class C RV Reviews and Best US-Canadian Compact MotorHomes
Two of the biggest RV Shows this winter are the Florida RV Super Show occurring Jan 16 – 21st in Tampa, Florida and the Quartzsite RV, Sports & Vacation Show occurring Jan 20 – 28th in Quartzsite, Arizona.
The Florida show advertises itself as the "Largest RV show in the Country." It is held at the Florida State Fairgrounds, covers 26 acres and will have over 1400 RV s on display. In addition to huge variety of Recreational Vehicles (from small travel trailers to huge luxury motor coaches) to tour, there's a schedule of six different seminars held each day of the show covering topics from "RV Maintenance" to "Exploring America" to "Tips on Choosing the Right RV." For camping, the Super Rally onsite camping package is already sold out, but dry camping still is available at the Fairgrounds. Otherwise camping is available at privately operated campgrounds in the Tampa area.
But the Quartzsite show tries to do them one better and claims they host the "World's Largest Gathering of RVers in the World." As their byline suggests, Quartzsite is essentially a massive RV Rally that also hosts a large RV Show. In addition to nearby full service campgrounds, adjacent to the show grounds are dry camping on the Bureau of Land Management campground. Unlike the Florida show, Quartzsite charges no fee for admission nor for parking.  At this date, probably most of the full service campgrounds would be filled, so if you plan on going in your RV, plan on dry camping.
---
---
There's a third RV Show/Event that aspired to be a major winter RV Rally and Show. The inaugural Good Sam RV Super Show was held at the Phoenix International Raceway, February 23 – 26, 2017. It looked to be a similar event to Quartzsite – a rally of Rvers with entertainment, seminars, family activities, and a large contingent of RV manufacturers exhibiting plus dealership, RV vendors and campground exhibits. Good Sam's sponsors a number of regional RV shows and events, but this will be their first attempt to provide a national show. Being a "new" event, the actual experience could vary widely from the publicity from being a smashing success to a disappointment.
Apparently there won't be a follow-up show in 2018, at least not in Phoenix and not in February. Instead Good Sams will sponsor a spring show advertised as the INDY Good Sam RV Super Show, April 12 – 15, 2018 at the Indianapolis Motor Speedway. The run-down of events looks similar to the Phoenix Show and they plan to offer over 2000 campsites for show attendees. We might catch this one and have a report and video for you later.
If you can't make any of these three shows, there are a few other regional shows offering a decent array of RVs, among them being the 50th Annual Chicago RV & Camping Show held Feb 15 – 18th in Rosemont, Illinois. They advertise 400 Rvs on display and claim to be the Midwest's Largest RV Show. We attended the Chicago RV Show (see our article here) in 2016 and last year again attended the 2017 Chicago RV Show. It is a big show but we need to remember to bring a compass with us. The show is in multiple rooms with odd-shaped dimensions so it is very easy to lose your sense of direction.
Links to RV Shows and RV Reviews on ScenicPathways.com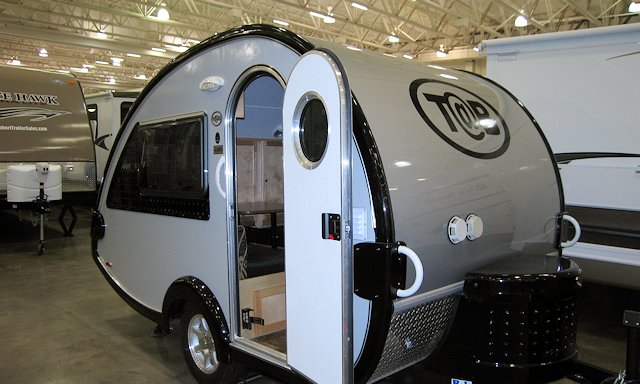 2018 Major RV Show Links – winter to fall
Here's our list of what we believe will be the larger RV shows occurring this year, plus a link to the Recreational Vehicle Industry Association calendar of all RV shows for 2018.
Indy RV Expo
Indianapolis, Indiana
January 6 -January 14, 2018
Boston RV & Camping Expo
January 12 -January 15, 2018
Boston, MA
Florida RV SuperShow
January 16-21, 2018
Tampa, FL
Quartzsite RV, Sports & Vacation Show
January 20 – 28th, 2018
Quartzsite, Arizona
See this and other guides to RV Traveling, Buying & Selling, and Maintaining your RV.
St Louis RV Vacation & Travel Show
February 1 -February 4, 2018
St. Louis, MO
50th Annual Chicago RV & Camping Show
February 15-February 18, 2018
Rosemont, IL
Toronto Spring Camping & RV Show
March 1 – 4, 2017
Mississauga, Ontario
Good Sam RV Super Show
April 12 – 15, 2018
Indianapolis, IN (USA)
If you missed these shows, there are a few more major shows in 2018 you can catch:
Hershey PRVCA Show – America's Largest
Sept 12 – 16, 2018
Hershey, PA (USA)
California RV Show – Largest on West Coast
October 5-14, 2018
Los Angeles, CA
For a complete calendar of Recreational Vehicle Shows see the RVIA Directory of RV Shows.