According to Trip Advisor, the Grand Marlin is the number 1 rated restaurant in Pensacola Beach. But as it is also listed as the most expensive restaurant in Pensacola Beach we've not dined there. But considering its good rating, perhaps we ought to find out "how expensive" it is! 🙂




---
But we have had a chance to sample some of the Beach's other top rated restaurants.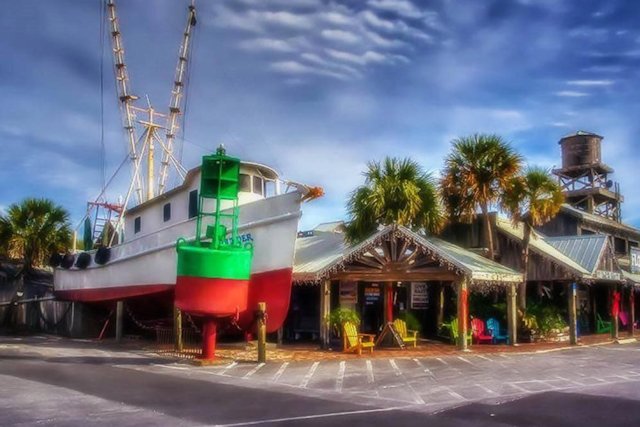 Flounders Chowder House
Flounders is a beach front casual, seafood dining and entertainment emporium that has been in Pensacola Beach since 1979. It is full of nautical paraphernalia, antiques, and fanciful creations. A former world record 980 lb Blue Marlin hangs from the ceiling of the Marlin Bar. Adjacent to the street-side entrance is the 55 foot former shrimp boat, the M/V Flounder named after its owner Captain Frank Flounder. Frank's three sons opened Flounders Chowder House after serving their tours shrimping.
Diners have a choice of seating: an open-air outdoor deck adjacent to their beach, a covered outdoor deck, and inside seating. There's also a separate, cafeteria style Sushi Bar. The stand-up Tiki Bar is out on beach and the more spacious Marlin Bar is in the open-air covered area.
The sand beach fronts on Pensacola Bay and includes a long pier with boat docking facilities for guests arriving by water. The large beach area also hosts a volleyball court and a kids playground area within view of the restaurant so Mom and Dad can keep an eye on the kids while they dine. The entertainment stage looks out over the the deck, but no one was performing the day we were there. But Jamaican music played in the background on their PA system.
I had the Grilled Mahi Taco Salad and Jo chose her favorite burger basket, a Mushroom & Swiss Burger w fries.
Service was prompt and friendly, portion size was large. Food quality was good, but not outstanding. Four stars. A fun, family friendly, entertaining place to spend an afternoon or evening. Next time I'll have to try their signature Floyd Flounder's Phenomenal Chowder, a past winner of the Great Florida Chowder Cook-off.
---
Red Fish, Blue Fish Restaurant
Red Fish Blue Fish is another funky beach front dining and entertainment also located on the Pensacola Bay side of the island. Like Flounders it has an extensive white sand swimming and lounging beach, in fact maybe a little larger than Flounders. As with Flounders you can be in the open-air patio, the covered deck, or inside away from all the elements. There's no volleyball court but there are corn-hole game sets on the patio and on the beach.
The day we were there a country-pop trio was performing on the outdoor stage. They had a Simon & Garfunkel style of close harmony and a wild electric fiddle that I loved. It was an idyllic afternoon, good food, good music, sun, beach, ocean breezes, and a very tasty Bloody Mary.
Our lunch was Grilled & Blackened Mahi on a bed of steamed asparagas, rice & spinach. Excellently prepared and decent wait service. We've had and enjoyed Grilled Mahi at other Gulf Coast eateries and the dish served up by Red Fish Blue Fish didn't disappoint us.
A fun place to drink or dine. Our only complaint was a very long wait to get a table, even though there seemed to be several vacant ones. Maybe a strategy to keep the bar full! I noticed on their website they are promoting a cell phone application that allows you to monitor in real time what is the "wait time" at the restaurant or also make a reservation to get in the cue before you arrive.
---
Other Top Rated Pensacola Beach Restaurants.
Peg Leg Petes Oyster Bar (pictured at the top of the page)
Bustling, pirate-themed seafood restaurant featuring a children's play area & raw bar
We've driven by Peg Leg Petes several times on the way to and from Fort Pickens. The parking lot was always full so we never stopped as we figured there would be a long wait for a table. They get good reviews on Google and Trip Advisor so one of these days we have to give them a try.
Paddy O'Leary's Irish Pub
Live music, karaoke, dancing, pizzs and Guiness on tap, plus a hundred more brews. More like a smaller town pub and sports bar. Friendly staff. More likely to meet year-round residents of the island here than at other dining and drinking establishments. Smallish, but what it lacks in size it makes up in character. It is located a half mile east of the main tourist and hotel area, closer to the residential neighborhood. They too get good reviews on Google and Trip Advisor and sounds like a fun place to try. If we are in Pensacola Beach on March 17, 2017 Paddy's is where I want to be!
Native Café
Also a bit away from the hustle and crowds is the best breakfast spot in Pensacola Beach (also serves lunch until 3pm). It is just across the parking lot from Paddy O'Leary's Irish Pub and another favorite with locals as well as visitors who are lucky to find it. Gets excellent reviews on Google and Trip Adviser. Until I checked Trip Advisor I didn't know there was a decent breakfast spot in Pensacola Beach. This is another one we gotta try.
Grand Marlin
The Grand Marlin is at the tip of peninsula that juts out into Santa Rosa Sound with a terrific panoramic view of the cove between the island and the Gulf Breeze peninsula. Highly rated by Trip Advisor for the quality of their food and service. But warning you also pay top dollar for that four star rating. With extensive docking facilities it is a popular dining and entertainment spot for boaters. One of these days we'll dig into the Piggy Bank and stop there for dinner or lunch.
Pensacola Beach Links
Shopping and Entertainment Map
Pensacola Beach Visitors Bureau
Pensacola Beach Chamber of Commerce
Pensacola Beach Hotels and Condos
Fort Pickens National Park and Campground
Pensacola Links
Roscoe Jan 2017
by