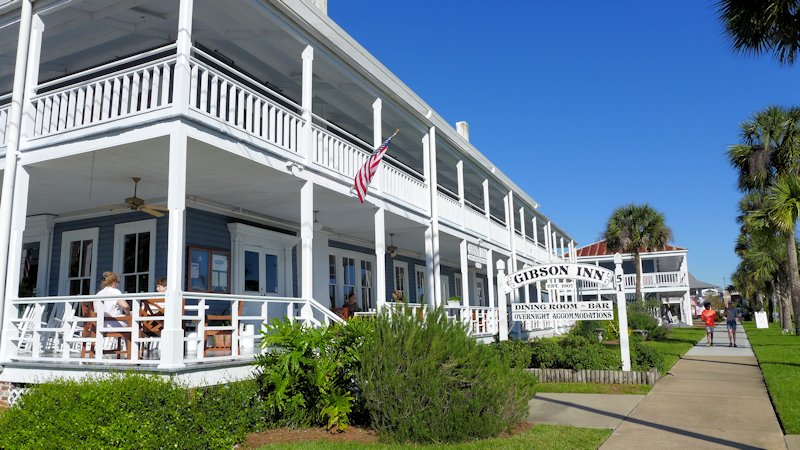 Apalachicola – Gem along the Forgotten Gulf Coast
Apalachicola has a rich history, established in 1831, at one time it was the third largest port on the Gulf of Mexico. Cotton and timber shipments dominated its early economy. Later oysters and seafood became prominent industry. Today it retains some of this maritime prominence in that the Apalachicola Bay Estuary provides 90% of Florida's oyster harvest, as well as shrimp, blue crab and other seafood varieties. Celebrating this maritime heritage, it annually hosts the Florida Seafood Festival, Florida's oldest maritime event.
Many of Apalachicola's former 18th and 19th century factories and warehouses have been restored and re-purposed into eclectic shops, galleries, restaurants, pubs, and B&Bs. An unusually large number of homes and buildings are on the National Historic Register, making Apalachicola a distinctive historic destination. We enjoyed walking around the downtown business district and nearby neighborhood seeing all the artful and sometimes humorous restorations of these old buildings and structures.
Apalachicola Dining & Restaurant Reviews
Review Oyster City Brewing Co.
During the two days we stayed in town, we were able to sample two of their restaurants and the brews of Oyster City Brewing company. We enjoyed a couple of very fresh tasty Hooter Brown ales and popcorn out on the covered patio outside of the brewery. Other than popcorn no food service at the Brewery tap room. But just across the street is the "Owl Tap Room" that serves Oyster City brews as well as a number of other craft beers on tap as well as bottles, plus excellent dining fare from the Owl Café Kitchen. The "Owl Cafe" is ranked the #1 restaurant in Apalachicola by Trip Advisor so it is on our "must do" list the next time we are in town.
Review Up the Creek Raw Bar
We loved "Up the Creek Raw Bar" with its friendly and fast service and great views of the Apalachicola River from its second story enclosed deck. You place your order at the bar, take a number and find a comfortable table. When your order is ready a staff member finds you and delivers your meal and beverage. They have a decent selection of wine and tap beers and of course a nice seafood menu. While almost every restaurant in town features locally harvested oysters, known for their unique mild and briny flavor, we stuck with a more familiar dish – grilled mahi-mahi, served with cole slaw and hush puppies. We were not disappointed in our meal served hot and tasty. Solid 4 and half stars for food and ambience; 5 stars for super-friendly, fast and efficient service from a team of staffers who love what they are doing. Apparently others agree with our experience as Up the Creek is ranked by Trip Advisor as the #2 dining spot in Apalachicola.
Review Boss Oyster
The other restaurant we sampled was "Boss Oyster", also on the river, but with views of Apalachicola Bay. Boss Oyster also owns their own oyster harvesting boat and crew, so they cover the entire process from the sea to your palate! We dined on their outdoor deck along the waterfront, with pelicans waiting in hopes of a handout. We loved dining on their outdoor deck with the breezes and views and our grilled Red Fish was tasty. But the side salad and hush puppies didn't measure up. The hostess who seated us was quite a frosty babe, not one you should have on your front line. An extremely sharp contrast to the welcome we got from the host at "Up the Creek Raw Bar." Our server was friendly but also inattentive. The place was packed so it must have a good reputation. The reviews on Trip Advisor show most everyone enjoys the dockside ambience and some people rave about the food, particularly the oysters. But serveral reviewers also experienced the poor wait service and middling quality food that was our experience.
Other Recommended Apalachicola Dining
We'll probably not return to Boss Oyster on our next visit because there are so many other interesting places to sample in Apalachicola. The "Hole in the Wall Seafood Market and Raw Bar" gets many rave reviews as does the "Up the Stairs" Restaurant, a second story "over 21″ establishment whose menu is somewhat retro offering steaks, salmon, duck, scampi, but with a new spin. Another place that offers a change of pace from oysters being the specialty is "Antonio's on the Bay" offering authentic traditional Italian dining and super friendly service.  There are at least 15 other places to eat and drink in town; most getting good reviews from guests.
Apalachicola Historic District
At the visitor center we picked up a walking tour of the downtown area historic district. Got some good exercise walking around town seeing many homes and buildings over a hundred years old lovingly cared for. The Gibson Inn, pictured at the top of the page, was built in 1907 as a full service hotel and continues to this day.
Slide Show – A few of the many historic buildings in town
---
Slide Show – A few of the unique shops, boutiques, and galleries in town
---
Apalachicola Beach
From our perspective the only thing missing in Apalachicola is the signature white sand beaches found at most other communities along the Gulf Coast Scenic Drive. Because of the large fresh water flow of the Apalachicola river and the barrier islands that help form the unique Apalachicola Bay Estuary, the shoreline is marshy rather than sandy.
But beach goers won't have far to travel to get their beach experience. The bridge to St. George's Island is only a few miles away where there is 20 miles of pristine beach on the Gulf. And if you are a campers or Rvers, St. George Island State Park occupies the far eastern end of the island.
Travel and Tourism Links:
Apalachicola Florida Chamber
Historic Apalachicola
Franklin County Tourism
St. George Island State Park
Panhandle Gulf Coast Scenic Drive – Part 2.
The portion of the Gulf Coast from the St. Joe's Peninsula and east to Apalachicola and beyond calls itself the Forgotten Coast. So far what we've seen of it, we like it. We look forward to exploring further east and north to the communities of Carrabelle, SopChoppy, Shell Point and other places along the coast.